Alexander and the Wonderful, Marvelous, Excellent, Terrific Ninety Days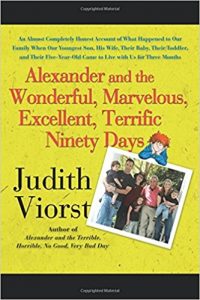 Many adult children, for a variety of reasons, come back home to live for awhile these days. Before they arrive, their parents undoubtedly wonder how things will go once a new, and presumably temporary, living arrangement gets under way in their household.
Alexander, the youngest son of Judith and Milton Viorst, with his wife and their three young children came back home to live for three months when the younger couple's home was under renovation. Judith's anxieties before and after their arrival will bring smiles of recognition to many a grandparent's face.
In so many ways, this book is so true to life.
The author wondered how she and her writer husband would cope with the chaos of breakfasts and dinners in the company of little children, with their multitude of food requests and rejections. She wondered too whether the unpredictability of household events in a young family might prove hard for an older couple to handle.
— Significantly, she worried well in advance about possible chocolate stains to a velvet chair!
— She wondered if any degree of privacy could be maintained in a household that suddenly expanded from two to seven people.
— She realized all too well that disorder and clutter had not been marks of the older Viorsts' recent home life.
"We are normally a household of two — one husband, one wife," she informs readers. The older couple come across in this book as busy, purposeful people with a somewhat settled lifestyle at home. That lifestyle was about to undergo some changes.
Judith Viorst is the author of books for children and adults. The name Alexander, at least, will be familiar to those who know her work, since she is the author of the widely read children's book, "Alexander and the Terrible, Horrible, No Good, Very Bad Day," as well as an entire Alexander series for children.
Of course, "Alexander and the Wonderful, Marvelous, Excellent, Terrific Ninety Days" is not a children's book. In so many ways, it is a book about grandparents. As a grandparent of eight, I enjoyed it greatly, but I experienced moments of somewhat pained self-recognition in reading it.
I'm sure the author's valiant attempts to refrain from giving advice to her son and daughter-in-law resemble attempts by grandparents everywhere, whether their children and grandchildren arrive for a three-day or a three-month visit.
Similarly, her temptation as a grandparent simply to yield to a child's pleas for sugary treats will not be unknown to other grandparents.
Lots of grandparents, though, will know what the author means when she writes:
"Being a grandparent, once described as 'parenthood one step removed,' turns out to be, to be more precise about it, parenthood one 'blissful' step removed."
There was good news and bad news to convey after the younger family's 90-day stay in the older Viorsts' home. The good news, the author writes, was "the repossession of our grown-up life," with the "banishing of chaos from every shelf."
She says the bad news, however, was "that sometimes – no, often – we miss the mess and the noisiness of living together, entangled side by side … with our boisterous, beloved Alexander Five."
About the reviewer
David Gibson is a longtime, now retired, member of the Catholic News Service staff.

Disclaimer: Book reviews do not imply and are not to be used as official endorsement by the USCCB of the work or those associated with the work. Book reviews are solely intended as a resource regarding publications that might be of interest to For Your Marriage visitors.