Claiming Our Deepest Desires: The Power of an Intimate Marriage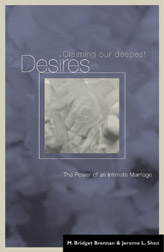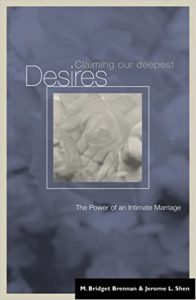 The husband and wife authors of "Claiming Our Deepest Desires" urge couples to do all they can as the years unfold to build the love and intimacy in their marriage, never losing sight of their relationship's great value. But while highlighting the greatest ideals of marriage, their book remains anchored in life's practical realities.
The authors want readers to realize that while it is more possible than they may suspect for married love to continue growing over time, it will grow in the midst of the real-life contexts where conflicts occur, and children are tended to, and household budgets are hammered out, and efforts are made to manage time well.
So this is a book on marital spirituality, but one that proposes "an integration of the spiritual and the practical aspects of marriage." The authors hold that "a spirituality that is not relevant to practical living and that does not express itself in concrete, positive actions and choices cannot yield fruit."
In a healthy marriage one spouse is "loved into being" by the other, says "Claiming Our Deepest Desires." But the authors promptly explain that "this 'loved into being' occurs imperceptibly, droplet by droplet," and it occurs in "the ordinary marriage and family time zone."
For Brennan and Shen, love and intimacy are basic in marriage. This is where their book's accent clearly falls. Yet, they insist that the love in marriage must be joined by some invaluable skills and attitudes. They write:
"Most couples still embark on the marriage journey believing that 'all we need is love. Too many couples make the decision to marry at the infatuation stage and chemistry level, unaware that love is not all that is needed. Navigational tools of communication, conflict resolution, deep listening, willingness to admit errors and wrongdoings, a sense of humor, trust and emotional maturity are all necessary in a good and lasting marriage."
The way couples grow in love is by loving, and the way they grow in intimacy is by being intimate, Brennan and Shen advise readers. What this means "in practical terms," they explain, is that "we strive daily to improve the qualities of a good relationship."
A section in "Claiming Our Deepest Desires" that I particularly enjoyed was devoted to the qualities of love and intimacy. For example, it said that trust "is an essential quality of a successful marriage." This means "trusting that our mutual desire will grow and that we will both work for the vision of the perfection of the relationship."
Honesty is presented as a quality of intimacy. Honesty, however, means "much more than just not telling lies. Honesty is revealing the truth about myself and my intentions," the book says.
And the authors rank "bearing each other's sorrows" among the qualities of a good relationship. They write, "If we do not enter into each other's sorrows, we cannot hope to enter into each other's joys."
One strength of "Claiming Our Deepest Desires" is the effort it makes to clarify what "love" and "intimacy" in marriage genuinely mean, without approaching either of these realities as an abstraction. The book also explores theological dimensions of marriage in a way that makes them easily accessible.
As a sacrament, marriage is "an outward expression of an inner reality. In marriage, the outward expression of the spouses' love for one another is but a reflection of the deep and abiding love God has for us," the book says. It refers to marriage as "a billboard" that advertises "God's presence in our world through our love for one another."
"Claiming Our Deepest Desires" wants wives and husbands to realize that in marriage they "are invited by God to be instruments of God's gifts – joy, compassion, love, authenticity, integrity and thoughtfulness."
About the reviewer
David Gibson is the former, now-retired editor of Origins, CNS Documentary Service.
Disclaimer: Book reviews do not imply and are not to be used as official endorsement by the USCCB of the work or those associated with the work. Book reviews are solely intended as a resource regarding publications that might be of interest to For Your Marriage visitors.