For Better: The Science of a Good Marriage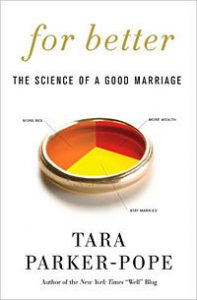 What average person expects a book chock-full of statistics and research data to be readable, much less interesting and applicable to everyday life? Statistics start on the first page of the first chapter of "For Better" and don't let up until the last page of the appendices. Yet the way Tara Parker-Pope relates the numbers is absorbing for anyone who is married or interested in marriage.
Parker-Pope's writing style is engaging, already proven via her popular column in The New York Times and her Internet blog on health, the science of marriage and other topics. However, what really makes this book attractive is the author's application of the scientific data to the art of marriage in a realistically positive way.
Beginning on an optimistic note, "For Better" debunks the notion that half of all marriages fail and asserts that the institution of marriage is in better shape now than four decades ago. This book avoids scare tactics while honestly pointing out the challenges of being married.
We learn why marriage seems harder than ever to sustain: Today couples have higher expectations of marriage, while facing greater challenges. Parker-Pope believes marriage is worth the effort and, using research data, lists many benefits enjoyed by married individuals.
A good example of the book's blend of intriguing data and real-life applications is in its treatment of fidelity. After describing animal kingdom examples such as how "cuddle" hormones contribute to monogamy among prairie voles, research about human commitment is presented. Readers have the opportunity to try a "flirting response" quiz similar to one employed by a McGill University researcher, and then read his results and interpretations. Individuals or couples can use 19 quizzes spread throughout the book and also collated in an appendix with summary interpretations.
The McGill researcher studied differences between how men and women deal with flirtatious encounters, which led to suggestions about how to reprogram the brain to resist temptation. People can conduct our own "fire drills" so they know what to do when they smell smoke that might be a threat to the marital commitment.
A few years ago I heard about how hormonal contraceptives interfere with biological processes that enable women to unconsciously sniff out a genetically suitable partner. Here the same "sweaty T-shirt" studies are cited along with a theory about the evolution of kissing as a taste test for genetic compatibility in mate selection. Some entrepreneurs are marketing pseudoscientific genetic tests by promising better sex, lower cheating risks, higher fertility and healthier children, but real scientists advise women who are considering marriage to get off the pill. Apparently men are biologically unable to sniff out genetic differences but their noses guide them toward women ready to conceive. The chemistry of love is fascinating!
Researchers have identified particular indicators that point to marital problems long before the couple appears to be in trouble. How you and your partner interact is more diagnostic than how often you argue or what you fight about. Telling the story of how you met shows a marriage scientist how you get along and is a strong indicator of how healthy your marriage is likely to be some years into the future.
You can use "The Story of How You Met" questions and researchers' interpretations to evaluate your own marital health. You may want to use several other quizzes in the section on marital challenges and the science of conflict, and to work on improving the way you resolve differences. Parker-Pope translates research findings into remedies to consider, such as:
Choosing to use more first-person plural pronouns ("we," "us," and "our" instead of "I," "me," "mine," "you" and "yours")
Learning how to distinguish complaints from criticism
Employing phrases that help de-escalate a fight
Although I was familiar with much of what "For Better" has to say, I still found the book engrossing. It engaged both my scientific brain and my lover's heart. Naturally I thought of my own complaints when I read about brain differences and the housework gap.
I'm eager to talk with my expectant son and daughter-in-law about the effects of children on marriage and let them read the book's lessons on caring for both children and their marriage. First I want to share the book with my husband so we can talk about what type of marriage we have and how to increase romance and passion.
About the reviewer
Mary Ann Paulukonis is a writer, speaker and consultant for leadership and ministry. She has been married to her husband Jay for 41 years.
Disclaimer: Book reviews do not imply and are not to be used as official endorsement by the USCCB of the work or those associated with the work. Book reviews are solely intended as a resource regarding publications that might be of interest to For Your Marriage visitors.