Sex, God, and Marriage
by Johann Christoph Arnold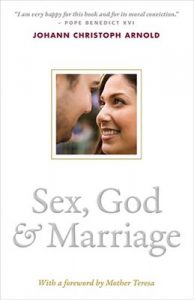 In her forward to Sex, God & Marriage, Mother Teresa writes "In this book we find a message needed today in every part of the world." Not that the message has never been proclaimed, but it is not well heard or is flat out rejected. The message is to be pure.
Purity might sound like an old-fashioned ideal to some people, but Johann Christoph Arnold makes the case that purity is a virtue needed in all ages and, moreover, fostering this virtue is particularly necessary in the twenty-first century.
In the first part of the book, "In the Beginning," Arnold shows how purity and love are rooted in God. He reminds us that we were created in God's image and everything God created is to be a living representation of who God is. That is both a marvel and a challenge. For example, Arnold distinguishes false love (oriented to human desire) from true love, which "wants the person of God to shine through the beloved," (Dietrich Bonhoeffer, Der Mensch als Bild, quoted on p. 24). True love reflects a faithful, loving God. In addition, Arnold points out that God created sexuality and so sexual love can give visible shape to God's love. To bear good fruit, even within marriage, "sexual intimacy must be placed under Christ" (p. 19). For sexual intimacy to be pure does not mean it is prudish. Nor is purity legalism. Purity of heart is the desire for God's will.
The second part of Sex, God & Marriage focuses on marriage, parenthood, and children. It also has a fine chapter on singleness as a call from God. Arnold notes that couples seek intimacy through shared ideas and feelings, and that is good. Even greater is the power of the Holy Spirit to purify love and take a couple's experience to a new level. Related insights in Chapter 8 could prompt a deep discussion between spouses. Similarly, Arnold's remark in Chapter 9, "Only very few people in our day understand that marriage contains a mystery far deeper than the bond of husband and wife—that is, the eternal unity of Christ with his people" (p. 61), might easily stimulate another discussion. Likely every chapter in this book could cause couples to reflect and talk about what it means for their life together.
In the third part of the book, Arnold addresses challenges of our age, such as fallout from the sexual revolution, divorce and remarriage, contraception and abortion. The book ends with "A Call to Purity," a 2014 joint statement of the Roman Catholic Archdiocese of New York and the Bruderhof Communities.
Johann Christoph Arnold, who died in April 2017, was an elder in the Bruderhof. In this book, he refers to some Bruderhof beliefs and practices that might sound unusual to Catholics or other Christian readers. For example, Arnold explains the different roles of man and woman in marriage in a manner that some would call "headship," yet he says it does not mean that a man is "higher." His church also avoids formal religious instruction for children and instead emphasizes the daily example of adults, an ideal more easily attained by living in a tight-knit community than in an open society.
Even if you think Arnold's message might be "too much," try reading the book. Look for inspiration in the author's love of God and his commitment to Jesus Christ. Listen for a connection with any of his many stories about individuals and couples whom he counseled over the course of more than four decades as a pastor. Relish what you recognize to be true from your own experience and reflect on any passages that make you feel uneasy. Some readers may find consolation and healing. All can appreciate Arnold's gentle wisdom.
About the Reviewer
Mary Ann Paulukonis is a writer, artist, and consultant for leadership and ministry.