Small Steps for Catholic Moms: Your Daily Call to Think, Pray, and Act
by Danielle Bean and Elizabeth Foss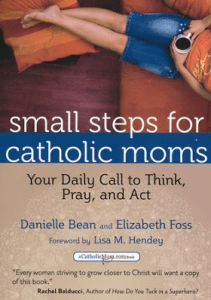 Young mothers and not-so-young mothers are very busy tending to husband, children, household tasks, shopping, and often a job outside the home. When I had small children, I probably never considered the possibility of personal reflective prayer. I managed quick morning and bedtime prayers and grace before meals. But I can't recall even being aware that a lay woman and parent might have any other choices, much less the time for something more. The desire was there but, seemingly, not the means.
Danielle Bean and Elizabeth Foss have created a book for today's busy mothers who might feel like I did. They offer a simple format for young moms who are willing to take "baby steps" to further their spiritual lives and grow in their vocation as wives and mothers. A mom could gain much by spending as little as two minutes a day with Small Steps for Catholic Moms: Your Daily Call to Think, Pray, and Act.
Bean and Foss say up front that there are no rules for using the book. If a busy mom misses some days or picks up their book only occasionally for inspiration, that is alright. There are several ways to use the book, so each woman can pray with it on her own terms. The authors provide short daily quotations gleaned from Scripture, saints, and other writers to provoke a mom to think. A brief prayer picks up the theme, taking one deeper and toward God. The third part of the pattern is a call to act. The action might require efforts to overcome a bad habit or encouragement to do something for one's husband or children. Or it might be along the lines of making beer-roasted chicken on the feast of St Augustine, patron saint of brewers.
Small Steps for Catholic Moms is laid out in page-a-day style, so I started on the page corresponding to the date I first opened it. That was mid-March and I think I began on page 87. The March 21 entry begins with a one-sentence quotation from Fr. Jean-Pierre De Causade, a writer I have appreciated in the past through his Abandonment to Divine Providence. A very short prayer, speaking directly to God about fear of abandoning oneself, suited me well that day. The third paragraph on the page offers suggestions for trying to overcome one fear that might hold me back from giving more of myself to others. This was an auspicious beginning for my using the book.
As March went on, I appreciated reflecting and praying with quotations from St John Chrysostom, St. Francis de Sales, St. Teresa of Avila, and Ecclesiastes. The proffered prayer always fit but sometimes the recommended action did not match my current stage of life. No matter, as other ideas would come to mind.
A few days into April, I acknowledged that one page per day was not going to give me enough experience of the book to write a review for May publication. So I looked back at the table of contents and perused the virtues that serve as monthly chapter themes. First choosing humility, July's topic, I focused on it for a few days. Some days I would take up the book not just once but several times or for an extended sitting. That way I could skip over action suggestions that didn't seem to apply and accept the challenge of one that seemed most appropriate for me. After a while I moved on to patience (October), and then to gratitude (November).
The virtue-centered way of using the book worked well for me but I decided to try yet another approach. One day I flipped through Small Steps for Catholic Moms looking for quotations from one of my sainted mentors, Teresa of Avila. As always she gave me plenty to think and pray about. During that page-flipping I noticed there were quite a few quotations from G. K. Chesterton, so I let him inspire my prayers for a while. There are many saints and writers cited within the year of daily pages, affording the reader an opportunity to enjoy a personal favorite for a while or find someone new for inspiration. While I'm accustomed to meditating with Scripture from the Bible or Lectionary, the many Scripture passages in the book could be another focus.
Small Steps for Catholic Moms is obviously written for mothers younger than me. Nevertheless, I enjoyed the book and hope many women with children at home will lay hold of it. It could lead them to the closer relationship with God they so desire.
About the reviewer
Mary Ann Paulukonis is a mother and grandmother whose life also includes artistic pursuits, writing, speaking, and ministry consulting.
Disclaimer: Book reviews do not imply and are not to be used as official endorsement by the USCCB of the work or those associated with the work. Book reviews are solely intended as a resource regarding publications that might be of interest to For Your Marriage visitors.