The Wedding Planning Begins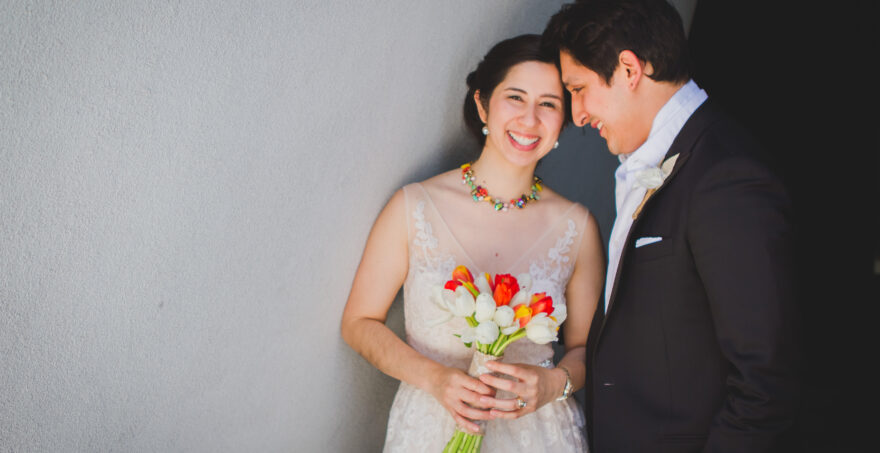 Sara: After we got engaged and called family and friends, I quickly went into wedding planning mode. Justin might say it was a little too quick! Within twenty-four hours, I contacted both of our pastors so we could begin marriage preparation classes and put a date on the calendar.
Justin: I thought she was going to plan the whole wedding in the first twenty-four hours.
Sara: Choosing which parish to get married in was a hard decision. Neither of us had been at our current parishes longer than three or four years. However, we are both involved at our parishes. We had discussed getting married in the parish in Iowa I attended during most of my elementary and high school career, but my parents moved several hours away from my "hometown" only six months ago.
So finally, we decided to get married at Justin's current parish since it was closer for a majority of our out-of-town guests. We picked our wedding date because it was the only date both my boss (a priest) and the church were available in the season we wanted to get married. We called the few reception halls in town and determined which one had an available date and best suited our wedding.
Next, we began to construct our wedding budget.
Before we got engaged, we had somewhat discussed what we both believed was a reasonable amount for our financial situation to spend on a wedding. I had "polled the audience" of my friends to determine how much they had spent, and Justin and I agreed on a number we'd like to keep.
Then I started determining costs, and how much we wanted to spend on each individual item. I knew, however, it was a sliding scale, and we would eventually need to make some tough decisions.
I am very lucky.
Justin: I totally agree. She is very lucky.
Sara: As I was starting to say, Justin is very understanding. After agreeing on our initial budget, we decided which items were important to both of us. Unfortunately, I soon learned that I had gravely underestimated the price for a photographer. After searching high and wide, I learned to get even a somewhat experienced photographer, I would have to spend around double what we had initially budgeted.
Photography and great pictures of our wedding day are very important to me, as this is the only tangible thing to help us remember our wedding day in fifty years. So I looked for the "great deals" on photographers and met a photographer through a work project that was very reasonably priced. Although he had only photographed a few weddings, he is a full-time photographer and has a stunning portfolio. Before I booked the photographer, Justin and I discussed our options for paying for the photographer. Ultimately, we decided if I took budgeted money out of other areas of our wedding (like flowers and cake), we'd book the photographer I found. So, together, we changed our budget.
The system is really good because it makes me prioritize what is important (Justin is flexible).
Justin: As far as I am concerned, all I need is a priest and two witnesses. Everything else is extra.
Besides, I think having to work to get what we want keeps us from living in a fairytale. After all, we will have to live on a budget after we are married and this will mean making tough choices that are even more important than those we are making in planning the wedding. In making these decisions, we are already learning how to compromise and to communicate about money. In addition, Sara may have had to get creative, but I think she would tell you that she has gotten everything that is important to her.
Sara: In the end, I know we'll both get what we truly want – to be married to each other.