When A Child You Love is Grieving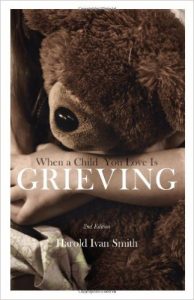 Our first grandchild had just turned four the winter my mother, who had Alzheimer's Disease, entered the last phase of her life. Mom lived on as winter turned to spring, and my daughter and son-in-law arranged to visit her while my husband and I would also be visiting Mom in the week following Easter Sunday. Mom had not recognized any of us children for a few years and rarely spoke, so visiting meant reading or playing the piano for her, or quietly keeping her company. Except at night and for naps, she spent the day in a reclining wheelchair. Mom was in her chair in a community room with my husband and me when Maggie arrived to meet her great-grandmother for the first time.
After telling Mom who everyone was, I lifted Maggie up onto her lap so great-grandmother and great-granddaughter could see each other's faces. Mom stroked Maggie's back and hair and told her how pretty she was. Yes, my mother spoke to my granddaughter! And Maggie talked to her great-grandmother for a half hour or so.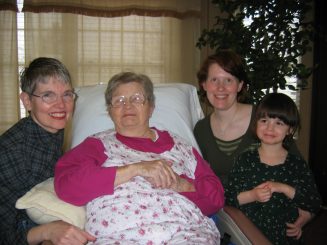 Two months later my mother died and we traveled back to Iowa for the funeral rites. Maggie and her mother came too, and my daughter served as a pall bearer. The day after the funeral we all returned home and I did not observe Maggie's response to the death firsthand. However, my husband and I were with Maggie a good deal during the funeral and my daughter shared some things later, so I can connect our experience with the book When A Child You Love Is Grieving.
This book has two parts. Part I advises the reader how to "Audit your own grief experience" and "Recognize individuality" among children. Before adults can help a grieving child, they have to acknowledge and manage personal feelings about grief expression, suspend judgments about the meaning of loss to a particular child, and deal with their own personal losses. Adults must also understand childhood development and how it affects grieving. Author Harold Ivan Smith says adults should have three main goals: to allow the child to put the death into perspective, to allow the child to make sense of the confusion, and to help the child begin to develop an understanding about death in general.
Part II of When A Child You Love Is Grieving, three times the length of the first part, consists in short chapters of advice on what to do with and for the child. Most of these helpful chapters run one or two pages, none longer than four pages. Each chapter opens with an illuminating quotation, offers topical information and advice, and closes with words to use in a hypothetical situation. These sixty-one chapters are arranged A-to-Z, which made a few headings seem a bit forced, but that is a small quibble given the wealth of tips. Some of the anecdotes pertain to recognizable figures.
Our granddaughter's experience of my mother's death did not involve the depth of grief that Smith addresses in his book. Nevertheless, I can correlate some experiences with a few of Part II's many chapters.
Draw and color. Drawings enable the child to express something meaningful and can open up conversation with an adult. After Maggie was home again, she created a picture from her imagination of herself and her great-grandmother.
Include children in rituals of grieving. Smith believes that children are harmed by being kept away from rites of passage. My daughter took Maggie to the funeral home, the funeral Mass, and the committal at the cemetery.
Let this child still be a child. Smith tells that a Secret Service Agent entertained three-year-old John-John in the church vestibule during part of President Kennedy's funeral Mass. While at the funeral home, except for a few short periods in the presence of casket, Maggie's mother took her outside to play and ensured that she ate at her usual times.
Let a child's curiosity guide the discussion. "One of the things we know through the experiences of many parents and children is that it is better to have all our questions answered, no matter how difficult the answers may be" (Eda LaShan, quoted on p. 87). Over the three days of family gatherings and rituals and in the ensuing months, we answered Maggie's questions as they arose.
Respond to the child's fears or anxieties. The temptation to tell the child to "be a big girl (or boy)" must be overcome.
On this final point, I have a longer anecdote to share, one that may sound amusing in hindsight but which at the time was frightening for our four-year-old grandchild. Shortly after Maggie arrived at her great-grandmother's casket, she let out a wail and began to cry loudly. Our daughter carried her out and dried her tears. Not until after my mother's burial did Maggie ask her mother, "Why did they cut off Great-Grandma's legs?" It took a bit of conversation to figure out that because the lower half of the casket lid was closed during visitation at the funeral home, Maggie thought the lower part of her great-grandmother's body had been removed. If we had realized Maggie's misunderstanding earlier, we would have opened the rest of the casket lid so Maggie could see my mother's legs and her (bare) feet!
Author Harold Ivan Smith's web page describes him as a grief specialist on the teaching faculties of Saint Luke's Hospital, Kansas City, Missouri, and the Carondolet Medical Institute in Eau Claire, Wisconsin. He is recognized as a Fellow in Thanatology by the Association for Death Education and Counseling and received the Distinguished Service Award from ADEC. Smith earned a doctorate from Asbury Theological Seminary and an Education Specialist degree from Vanderbilt. For sixteen years he has facilitated Grief Gatherings, storytelling groups for grievers, at Saint Luke's Hospital.
About the Reviewer
Mary Ann Paulukonis is a wife, mother, and grandmother whose life also includes artistic pursuits, writing, speaking, and ministry consulting.
Disclaimer: Book reviews do not imply and are not to be used as official endorsement by the USCCB of the work or those associated with the work. Book reviews are solely intended as a resource regarding publications that might be of interest to For Your Marriage visitors.
Save
Save