Your Time-Starved Marriage: How to Stay Connected at the Speed of Life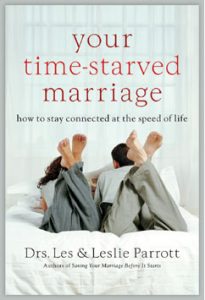 Time is fleeting, and there seems to be too little of it.
Add to those laments the sense many of us have that very little of our time is under our own control. A wide range of duties keeps us busy and eats up the hours in our days, weeks and years.
Do we feel free, then, to devote sufficient time to what we consider most important? Perhaps we imagine that one day — at some future point, but not today or tomorrow – we will be able to give the people who are our top priorities the time and attention they deserve.
That is why Les and Leslie Parrott wrote "Your Time-Starved Marriage." They write, "In these hectic, hurry-up, stressful times, every couple we know – including ourselves – is rushing around to get more done in less time." The problem in these authors' eyes is that "life in the fast lane inevitably means less time with the one you love."
They want couples to "maximize the moments" they have together – not sometime in the future, but now. The Parrotts are co-directors of the Center for Relationship Development at Seattle Pacific University.
This is "a book about being more connected," they explain. They want to help spouses become more connected to each other as they're "traveling at the speed of life."
But the Parrotts definitely do not want couples to speed through their moments together (a conversation after dinner at home, for example) in order to return to the Internet, watch a scheduled TV show or in other ways allow the clock to "steal" their time by functioning freely within their home as a time "bandit."
To reclaim their "time as a couple," a husband and wife need to recognize that their "life is happening now," the Parrotts insist. Unfortunately, couples are susceptible to putting their life "on hold" – telling themselves that once their children are older, once they get a new house or once a salary increase comes through they will be free to spend time with each other.
The Parrotts caution couples not to allow a marriage to slip "quietly into the future." One of this book's discussion questions asks, "In what ways have you spent your life 'indefinitely preparing to live'?"
In one happy bit of advice about good uses of time, this book encourages couples not to discount the value of fun and restful periods together. In fact, the authors think it is time to get "serious about having fun." They fear that people are putting weekends and even vacations at risk by keeping their work too close at hand wherever they go.
The many small ways a couple spends leisure time together over the course of a weekend are important, the Parrotts point out. And they invite couples to envision "fun time together" as an "insurance policy against the fading of passion and intimacy" in their relationship.
Can a husband and wife "find" more time for themselves? No, but they can "make" more time for their relationship, the Parrotts propose. Though time is not hidden somewhere ("in the cushion of a chair") waiting to be found, these authors believe time is "made" when priorities are clarified and people "decide what matters most."
The Parrotts hold that the way to make time for a marriage is for a husband and wife to decide their marriage is their priority. If this is to happen, though, distractions such as "superficial desires and unhealthy obsessions" must be overcome.
Couples "get out of balance" when their relationship becomes "absorbed by second-tier 'priorities' that eat up" their time, the authors write. In trying to make time for themselves as a couple, spouses should recognize that it does not suffice to say their "marriage comes first" when, in fact, they devote their time to the lower-ranking interests on their priorities list.
"Your Time-Starved Marriage" suggests to couples that they will benefit by considering how their basic personality types shape their approach to the hours in their days and weeks.
Naturally, a husband and wife may differ in their personalities, with one focused intently on enjoying the present moment and one focused just as intently on planning the future, for example. An appendix in the book guides couples in a reflection on the subtle and not-so-subtle influences of their similar or dissimilar personalities.
About the reviewer
David Gibson is the former, now-retired editor of Origins, CNS Documentary Service.
Disclaimer: Book reviews do not imply and are not to be used as official endorsement by the USCCB of the work or those associated with the work. Book reviews are solely intended as a resource regarding publications that might be of interest to For Your Marriage visitors.