A Special Family: Shaped by Down Syndrome, Grief and Grace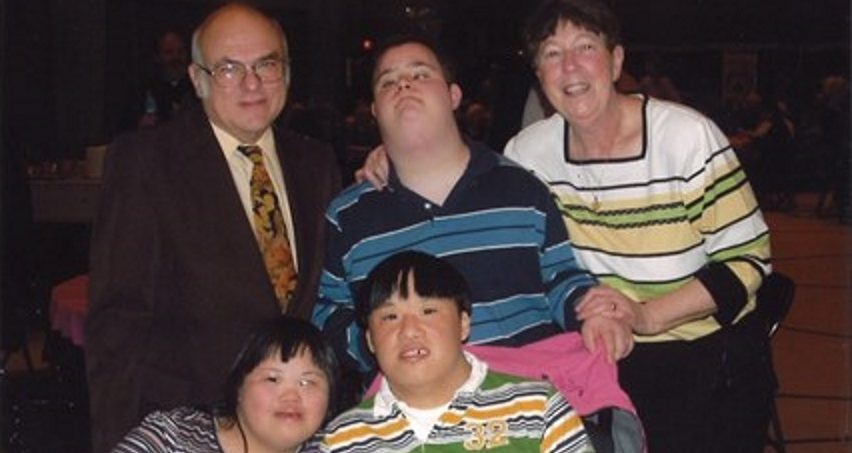 By the time our son Stephen turned seven, we were hoping to adopt another child. To our three birth children, Guy (8), Stephen (7), and Matthew (5), we had already added David (3) and Danny, whose Down syndrome no longer seemed remarkable. He had passed the ripe old age of one and, although he was developing more slowly than our four older boys, he was making strides at his own pace. Other than a small PDA (a patent ductus arteriosusa or small hole in his heart) and the croup which scared us all half to death, he was in good shape physically. (The hole eventually closed, and he outgrew the croup, thank God!) Except for the time I fed him too many carrots and turned his skin orange, we were doing a pretty good job of parenting. Danny had grown into being just another member of the family, and we felt that we could care for one more baby with special needs. Down syndrome did not seem like a disability. It was a challenge which early intervention services helped us to meet.
The following spring, we met John Francis in The New York Foundling Hospital. He was four months old. The first time I held him, he looked up at me and smiled. (I refuse to believe it was gas!) I was a sucker for cute babies, and his little face won me over. Like Danny, John Francis had a small PDA. This was not an issue, but the colostomy bag attached to his little abdomen did present some problems. I had to learn to care for it before The Foundling would release him to us, and that made me nervous. But he had that adorable little smile and I soon managed to clean out his bag, "like a pro," one of the nurses said, as though his guardian angel was guiding my hands. Looking back now, I think perhaps he was!
Our first night at home, I had a slippery little mess on my unskilled hands. I think that was the only time I wondered about the wisdom of our decision! My sister, who was present for my struggles and frustrations, suggested that I use a meat baster to flush out his little bag. That solved my biggest problem and I continued to use that baster until his colostomy was reversed by the time he was two.
The other boys did not like the idea of the colostomy bag, although it was covered up and soon became a non-issue. They were also against us naming the baby "Francis." They thought the kids in the neighborhood would make fun of him. I had to laugh at that. Here was this little Chinese baby with Down syndrome and a colostomy bag and they were worried about kids making fun of his name! But we compromised on that, and named him John Francis instead. To my knowledge no one has ever made fun of him or of his name!
After his slippery beginning, John Francis found himself the littlest child in a busy household. We had decided, even before adopting Danny, that our family life would not change because of the addition of children with special needs. We went to Church, took them all to McDonald's, went shopping and on vacation. Other than toting more luggage, along with the usual baby paraphernalia plus that necessary baster, we managed. My husband took the older boys to their sporting practices and events. I stayed home with the little ones, and joined him when I could. We were a typical family, busy in the chaos of everyday life.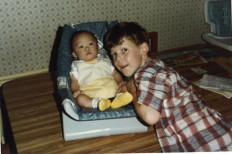 All of the boys got along, but Stephen took a special interest in John Francis. They were "roomies" and Stephen seemed happiest when he was holding the baby in the crook of his arm. I can still see the look of pure joy on his face as he went about the house toting John Francis with him. They went to bed and crib, as usual, on the night of February 12, 1990, but Stephen came out of his room about 10 p.m. in distress. He had a terrible headache and could not sleep. I gave him some pain reliever and put him back to bed. I could soon see that this was not an ordinary headache. We called for an ambulance and, by 3 a.m. the following morning, Stephen was dead. His undetected brain aneurism had burst suddenly, without any warning. That is what made us a "special family": grief, not Down syndrome.
A family does not get over the death of a child. As time went on, we began to function again, but it was very difficult. The older boys mourned Stephen quietly, and my husband, Tony, sank into a deep depression. The laundry did not stop, the house did not stay clean, and the meals did not cook themselves. I managed to get through some very difficult days bearing the brunt of a loss which nearly paralyzed us all. Losing Stephen was the greatest challenge of our lives.
I knew that, in order for me to heal, I had to give myself over to something greater than my loss. It seems incredible to me now that my husband, Tony, went along with my desire to find another baby, but he did. We began to actively pursue another adoption and were led back to The New York Foundling Hospital the following year.
A baby girl with Down syndrome had been born in January of 1991. She had a large hole in her heart and lay, we were told, like a little blue doll. The agency did not want us to meet her until after her surgery. They were afraid she might not survive, and did not want us to face what would be another devastating loss. A lot of prayers were sent up to heaven during the next few months! After the surgery, we were finally called in to meet her.
Now this little bundle was a challenge of a different sort! She had not developed the ability to suck and swallow. On the positive side, her heart had healed well and her prognosis was good. I faced the daunting task of putting a tube down her nose into her tummy four times a day so that she would be able to get the nourishment she needed to thrive. I was to do that after I coaxed her to drink from a bottle, something she never quite mastered. I did not know if I was up to this task, this risk of giving our hearts to another child, at all.
After we met Maria Grace, I went to church. By then Stephen had been gone a year and a half. While sitting in the back of my parish church, I looked up at the altar, praying for guidance. There, my soul very clearly saw Stephen, holding a little baby out to me in his outstretched arms. It was as if he were offering me the gift of life. How could I reject it?
Again, angel hands seemed to guide my own as I learned to feed Maria Grace. We brought her home by the end of that week, another China doll, when she was seven months old and weighed less than eleven pounds. Matthew, our youngest birth son, had taken over Stephen's place as "roomie" and chief holder of John Francis. I was able to devote my time to the baby's care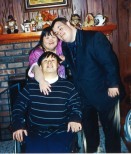 Our children are now grown. Our oldest son, Guy, works in a school with a boy who has Autism. He hopes to teach full time in September. Matthew worked in a Day Program with adults with special needs for three years and is looking forward to teaching Social Studies in the fall. David was a "Buddy" with United Cerebral Palsy and also "buddied" while he served in the army. He will graduate from college this May. Danny and John Francis both go to work daily in Hub Sites, gathering places from which adults with special needs go out to serve as volunteers in the community. Maria Grace also volunteers at a Hub Site. This only daughter of mine has grown into a confident 23-year-old who has the ability to keep us all in our places. Even the dogs! Down syndrome has not been a disability for us. It has been, instead, the lens through which we, my husband and I and all of our children, have learned to love each other. You can see our story on YouTube at "What to Expect When You're Expecting a Baby with Down Syndrome". I hope that the smiling faces it contains suggest that Down syndrome is a gift, like life itself.
How has it been raising a family in which three members have Down syndrome? It has been a gift to treasure – and to share!