Adoption: Choosing It, Living It, Loving It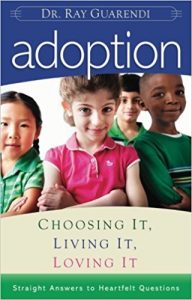 Topping the list of Ray Guarendi's credentials for writing this book is his experience as the father of 10 adopted children. He also happens to be a clinical psychologist, the author of several other books and a syndicated column, and "Dr. Ray" to listeners of two national radio talk programs.
Perhaps "On Call With Dr. Ray and Friends" or "The Doctor Is In" influenced his decision to use a question-and-answer format for this book. Guarendi's answers run one to three pages, and his style is conversational.
Guarendi might have saved every question he and his wife had before adoption and every one asked of him as a parent adviser. His book is chock full of "straight answers to heartfelt questions," as a sub-subtitle puts it. He addresses concerns about when to adopt, resistance by family members, special needs, open adoption and involvement by birth relatives.
Replies to most questions, from child-raising costs to talking about adoption with one's child, are laced with humor. He even includes a question from June Cleaver.
Since I am the grandmother of an adopted child and aunt to three adopted children (now young adults), I looked through the book for anything addressed directly to relatives. While I found issues having to do with family members instead of questions specific to grandparents, that doesn't mean this isn't informative reading for friends and relatives of adoptive families. We can learn by "overhearing." Furthermore, Guarendi offers down-to-earth, solid child-rearing advice that transcends adoption.
After all the good advice, prospective parents may still have questions like, "How do we know if we're called to adopt (or become foster parents)?" and "Are we too old?" The last chapter tackles those basics, concluding with, "Where do we begin?" Guarendi's longest answer may be his response to that question, where he summarizes potential routes to adoption: employing a private attorney who specializes in adoption, working with an adoption agency, seeking a foreign-born child, starting with foster children, and/or happening into good fortune or timing (also known as God's providence).
This is a good resource that can help people considering adoption get beyond misconceptions and concerns. The book can also add to the rich experience of parents who already have adopted children.
About the reviewer
Mary Ann Paulukonis is a writer, speaker and consultant for leadership and ministry. She has two grandchildren, one of whom is adopted.
Disclaimer: Book reviews do not imply and are not to be used as official endorsement by the USCCB of the work or those associated with the work. Book reviews are solely intended as a resource regarding publications that might be of interest to For Your Marriage visitors.