After the Glass Slipper: 8 Proven Steps to Lasting Love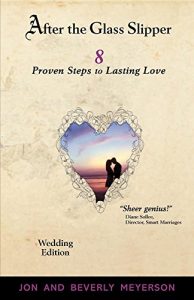 The dream of couples who marry is to live "happily ever after." With the passage of a little time, however, each spouse notices changes in the other; a variety of conflicts arise. Then, say the authors of "After the Glass Slipper," the spouses may ask where the person they married went and if it is going to be possible for them to achieve their dream.
This unique book presents eight skills to help couples develop and keep a loving relationship as they move from falling in love into the early stage of marriage with its virtually inevitable conflicts and finally into a long-term stage of enduring love. The book offers guidance for learning "to use each conflict to build a stronger and more loving relationship."
The authors are a husband and wife who have worked with hundreds of couples. John Meyerson is a licensed clinical social worker; Beverly Meyerson is a relational coach.
What makes their book different from others is that its basic points come to light in a storytelling context. The story, perhaps not surprisingly, involves the fairy tale of Cinderella and the prince she married. But instead of focusing on this couple's dramatic meeting at a ball, the book turns to what happens to them as a couple after they marry.
In "After the Glass Slipper," Cinderella and the prince, while happy much of the time during their first year of marriage, experience times of disagreement and misunderstanding. Each must learn what is the cause of their disagreements and what type of awareness will help them move beyond their misunderstandings.
They learn they must praise each other for example. The authors comment, "By giving and receiving praise, the couple developed a mutual trust and respect that enabled them to discuss their differences with civil tongues."
Cinderella and the prince needed to learn that "too much time spent apart leads to frailities of the heart." This awareness led them to agree "that when either felt the other was spending excessive time away, it interfered with their closeness and a talk was needed to recapture their loving relationship."
Also, the couple needed to become aware that "true love requires equality." But what does equality mean? While the equality of a wife and husband does not mean they are identical in "all abilities," it does mean "each must treat the other as equal in stature," the authors explain.
What other forms of awareness did Cinderella and the prince need to develop? They had to learn how to support each other when relatives interfered in their marriage, for example, and how to deal with and accept their personality differences.
What they learned during their first year of marriage did not mean that this couple's marriage would in the future be free of conflicts or that personality differences would not continue to make themselves known, the authors make clear. Nonetheless, these basic principles would serve them well in resolving issues and reducing stress in their marriage.
There are two editions of the Meyersons' book, one for already-married couples seeking to resolve current conflicts through improved awareness and communication, and a wedding edition for engaged or recently married couples. The two books are identical, however, except for their covers and introductions. The book is now available as an e-book from Amazon and Barnes & Noble.
About the reviewer 
David Gibson served for more than 37 years on the Catholic News Service editorial staff.
Disclaimer: Book reviews do not imply and are not to be used as official endorsement by the USCCB of the work or those associated with the work. Book reviews are solely intended as a resource regarding publications that might be of interest to For Your Marriage visitors.