Blessed Is Marriage: A Guide to the Beatitudes for Catholic Couples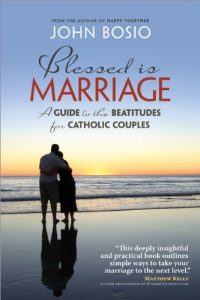 Couples aspiring to holiness may not be perfect, "but they try each day to be the best they can be for one another," says John Bosio. His new book, "Blessed Is Marriage," suggests that holiness need not be foreign to couples simply because they find married life challenging.
The book's premise is "that to grow in love and to find happiness in the company of our spouse, we need to grow in holiness." Married readers who wonder if holiness is beyond their reach will appreciate Bosio's inclusion of this 2007 remark by Pope Benedict XVI:
"Holiness does not consist in never having erred or sinned. Holiness increases the capacity for conversion, for repentance, for willingness to start again and, especially, for reconciliation and forgiveness."
Growth in holiness and love requires "a change of attitude," Bosio holds. He proposes that "in the Beatitudes we learn the loving attitudes that help us grow in holiness."
Bosio is a family life educator and former marriage and family therapist. Many undoubtedly recall his 2008 book, "Happy Together: The Catholic Blueprint for a Loving Marriage" (Twenty-Third Publications).
Chapter by chapter, "Blessed Is Marriage" analyzes the meaning of the Beatitudes and their implications for marriage. "Poverty in spirit, mourning, meekness, mercifulness, purity in heart, peacefulness and righteousness are the loving attitudes that open our heart to God and to one another," Bosio writes.
For him, the Beatitudes are "signposts pointing toward holiness."
In their titles, the book's chapters pair one of the Beatitudes with an insight that helps readers focus on the essentials of marriage. You might say that the chapter titles "translate" the Beatitudes for contemporary readers.
Thus, "blessed are the poor in spirit" prompts spouses to "stay turned toward God and each other," while "blessed are the meek" advises each spouse to treat the other "with respect."
"Blessed are the peacemakers" urges wives and husbands to "forgive," and "blessed are the merciful" invites the married to "learn compassion."
Among his comments on these Beatitudes, Bosio explains that:
— "All spouses feel overwhelmed and scared from time to time. …Events like illnesses, financial setbacks, job losses, deaths in the family, geographic relocations and others make spouses realize how poor in spirit they are and how much they need others and God."
— Meekness "does not mean being a wimp and letting others step all over us. Meekness is an attitude that helps us run the marriage race successfully by being sensitive and respectful of each other's wants and needs."
— "We are called to become as merciful as Jesus. This encourages us to develop an awareness of our spouse's needs and to reach out to help in a way that our spouse appreciates."
Bosio holds readers' attention in "Blessed Is Marriage" with the true stories he tells about couples who experienced struggles in marriage and who sometimes needed more than instincts and feelings to come to terms with events.
For one of these couples, a disappointing encounter with life's financial realities resulted in considerable turmoil and anger around the time of their first child's birth. Fortunately, the couple resolved these matters. Bosio comments that "the key to the success of this couple was their ability to forgive and to move on with life."
As his discussion of forgiveness unfolds, Bosio comments that "the reason many couples argue endlessly and hold long grudges is because neither spouse wants to admit to the other that he or she has made a mistake or done something wrong."
Bosio does not want "Blessed Is Marriage" simply to be read and then put aside. He has designed it to be put to use. In fact, "reading this book can become your own private retreat at home," he says to readers.
To that end, he provides excellent sets of discussion questions at the conclusion of each chapter – one set for a couple to use at home, another set for group sessions.
The discussion questions I come across in many books these days seem rather poorly conceived. But I suspect the questions Bosio formulates will be able to serve as the basis for some quite rewarding conversations.
About the reviewer
David Gibson is a longtime, now retired, member of the Catholic News Service staff.
Disclaimer: Book reviews do not imply and are not to be used as official endorsement by the USCCB of the work or those associated with the work. Book reviews are solely intended as a resource regarding publications that might be of interest to For Your Marriage visitors.