Good News for Married Lovers: A Scriptural Path for Marriage Renewal
by Fr. Charles Gallagher, SJ and Mary Angelee Seitz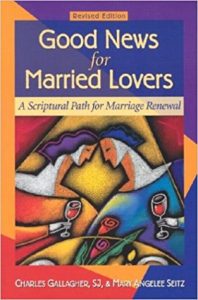 Marriage "is a form of immigration," according to "Good News for Married Lovers," a book Jesuit Father Charles Gallagher co-authored some years ago with journalist Mary Angelee Seitz. "When we take on a new lifestyle, we're living in a new country. There's a naturalization process: We have to learn the language, and [in marriage] that language is sharing with our partners," the authors emphasized.
A theme in this book analyzes the extent to which people who are married become part of each other's lives and must, as a consequence, give "absolute priority" to each other.
"If we're going to be true lovers, we must concentrate on our spouses," the authors stated. "We must see love as a means to bring delight to them, not as a gift meant only for ourselves."
They asserted that "when you're really married, you're no longer running your life. There are two of you inside, and you can no more ignore the needs and desires of your love than you can ignore yourself."
After all, "matrimony is not two people doing nice things for each other," the authors observed. Rather, "it is two people being each other. This is St. Paul's meaning when he says the two become one flesh."
Father Gallagher's name is well known to many married couples in the church. The priest, who died July 21 in New Jersey at age 85, was considered the driving force in the creation of the Worldwide Marriage Encounter.
It seems that his dream, after attending a Marriage Encounter weekend in 1968, was to expand the movement worldwide. Soon he, along with two other priests and couples, was presenting Marriage Encounter weekends in the New York area. Then, in the 1970s, the movement began to expand across the United States and into Canada and Australia.
Father Gabriel Calvo developed the original Marriage Encounter weekend in 1952 while serving in Spain. Father Gallagher adopted the basic premise and fulfilled a key role in creating the Worldwide Marriage Encounter movement.
"Good News for Married Lovers" was not presented by Father Gallagher and co-author Seitz as "a think book." It was written, they told readers, "so you will feel more tender toward each other, be more open to each other, speak more freely. It's intended to help you think of subjects that need to be talked over."
Wives and husbands "do, indeed, wish to put each other first. The difficulties we face in doing so are just that: difficulties. They're not failures," the authors insisted. They said, "We can overcome our difficulties with prayer, with soul-searching and by keeping our eyes wide open to the love-killing lessons society has taught us."
These authors urged couples to think carefully about the great potential of their marriage to grow and its proper place, which is at the very center of their lives. For example, they suggested to couples:
"We humans are much more likely to excuse our own defects and much less likely to excuse our lovers' flaws. There's a good rule of thumb we can all follow: When we find ourselves making excuses for our behavior, that's when our loves are feeling their greatest pain."
"We must be strictly on guard against being critical. All too often we make excuses for this failing."
"We're often quite generous with each other. I don't want to imply otherwise. But, often, our generosity is only for special occasions."
"Wives, ask yourselves this: If you were a man, would you like to have a wife like yourself? Husbands, ask yourselves: If your daughter brought home a man just like you, would you say, 'Wow, is she going to have a great life!'"
"Pressure, punishment and force simply do not work in a husband-wife relationship."
One chapter in "Good News for Married Lovers" invites readers to recognize the talents or gifts given to them by God and how these gifts can enrich a marriage.
"If we want to live as whole, healed people, we must recognize that God has given each of us a marvelous capability to love our spouses," the authors wrote.
They challenged wives and husbands to ask, "What talents have I been given for my beloved's sake?" Is it a spiritual talent, "like kindness or patience"? Is it an enriching talent, "like creativity, intelligence or humor"? Is it an uplifting talent, "like lightheartedness, optimism or sexuality"?
The authors proposed the following question for spouses to ask themselves: "Do I use these talents for the benefit of my beloved? What can I do to use each one to the utmost?"
About the reviewer 
David Gibson served for more than 37 years on the Catholic News Service editorial staff.
Disclaimer: Book reviews do not imply and are not to be used as official endorsement by the USCCB of the work or those associated with the work. Book reviews are solely intended as a resource regarding publications that might be of interest to For Your Marriage visitors.