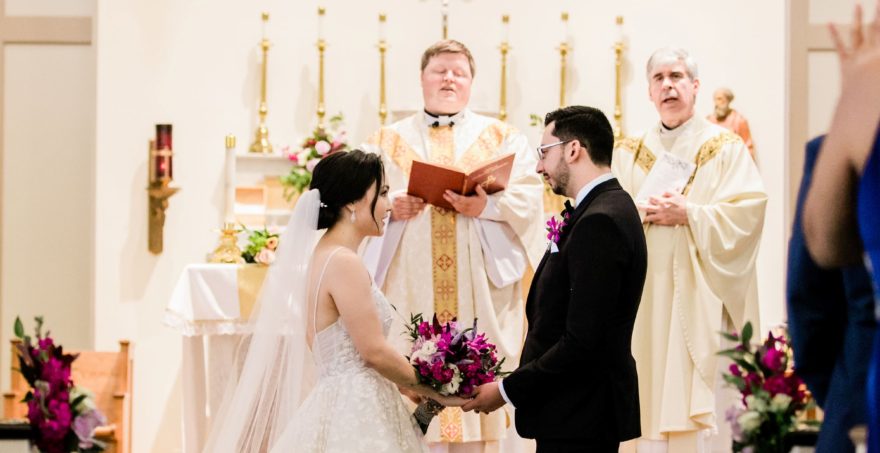 After waiting 489 days from the moment we got engaged – and we had been dating since November 2015 – the actual wedding day felt quick. Before the wedding, there were so many hours spent on the tiny details – from how the table cards would be held up to what font to use on the ceremony program – that, by comparison, the Mass and reception felt like they flew by.
Our attitude up until this point was to take things one day at a time as we prepared for our lifetime vocations as husband and wife. The wedding is only one day, but marriage is for the rest of our lives. As an engaged couple, we found that trusting and leaning on God, friends and family helped to focus our perspective on what comes after the wedding day. This was truer than ever on our wedding day, as both Anna and I were relying on everyone to help us prepare to meet at the altar.
The moment we exchanged vows at the ceremony felt like it lasted forever, as this was when we finally conferred on each other the sacrament of marriage with our consent. We committed our lives to starting a new family with Catholic values in front of our friends and our new, larger family.
While Anna and I looked into each other's eyes as we repeated after Father Matt, we felt the presence of each other, those gathered around us and, above all, the presence of God, who had brought us together (through a dating app!) and had carried us to this point.
This moment was liberating, everything we worked for was finally here! I kept getting emotional at the thought of how happy I was to be celebrating with all the special people in both our lives. After the ceremony was over, the reception was filled with memorable moments—touching and funny toasts, tear-jerking mother-son and father-daughter dances, and laughter with friends. As beautiful as the day was, the reception went by so quickly – we hardly ate and drank – and before we knew it, we were saying goodbye to our guests.
Two days later, we left for Hawaii! We stayed on Oahu and Maui and time slowed down a bit. One moment that stuck out to us was when, after a sweaty-palmed drive up 10,000 feet to Haleakala Crater and back down, we went to Mass at Holy Rosary Church, which had a memorial to St. Damian outside. (St. Damian was a priest from Belgium who ministered to lepers on the Hawaiian island of Molokai, and eventually contracted and died from Hansen's disease, leprosy.)
Before Mass began, we were asked to introduce ourselves and share where we came from, and then as a sign of welcome we were presented with shell leis. Before the dismissal, the priest offered a prayer for our safe travels. Even in the middle of the Pacific Ocean, we were embraced by the Catholic community and felt that God was watching over us.
As I am writing, Anna and I have been married for 3 weeks and 3 days. We've returned from our honeymoon and have been back to the daily grind for more than a week. Writing this blog has given me a good opportunity to reflect on the beauty of the sacrament we received and how much it meant to all the people that were present that day.
Now that the wedding day has passed, we're confronted with figuring out how to navigate toward eternity together. So far, our plan is to look to God, with support from our family and friends, one day at a time. We continue our marriage prep reading, such as Deacon Keating's book (yes, we're still reading it), and continue praying to God to guide us on our path to holiness. Basically, we continue some of the practices we started when we were engaged. Time has slowed down, but we understand that it ebbs and flows. The next few months for us include some traveling and house hunting, so we're doing our best to enjoy the slow while we can.