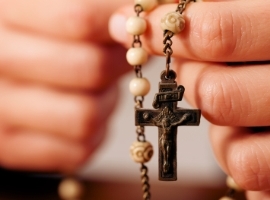 As a secret "rom-com" lover (call me cheesy, but there's very rarely a "guy meets girl" movie that I won't sit and watch), I always dreamt of my own "meet-cute" moment someday. What girl doesn't want to find her Prince Charming? What girl doesn't dream of bumping into Mr. Perfect while ordering her morning latte? What Catholic girl doesn't want to find "the One" at daily Mass, bringing up the gifts with him and walking down the aisle for what will hopefully be just the first time? For years, I desperately wanted to find the guy that would sweep me off my feet and make me weak at the knees. As I watched my friends from college get married and start having babies, I prayed for the day I would meet the handsome man who would kill the roaches, take out the trash, dance with me in the kitchen, and be the father to my future children.
Knowing I wanted to find him, and knowing my patience was wearing thin, I complained to my spiritual director about the lack of direction and love interests in my life. After a meeting in which I whined more than my fair share, my ever-wise spiritual director suggested I pray about this struggle just as much as I was talking about it. I was frustrated at his silly suggestion. Who prays about something like that? But, realizing that there wasn't a dating website with better results than the heart of the Lord, I decided to pray the Divine Mercy novena with the specific intention of refocusing my heart and asking Jesus (with the encouragement of St. Faustina) to lead me to the man I was supposed to marry (or mercifully and blatantly point out the convent I should enter). It was a long nine days of prayer, each one seemingly more difficult than the last. To repeatedly pray for mercy for the whole world and to profess a trusting fidelity to the will of Jesus is no easy task, but I did my best to keep my focus. Every day I prayed the suggested intention in the traditional novena, and at the end, I added my own personal request to be eventually led to the man I would one day marry. I completed the novena on Divine Mercy Sunday, April 27, 2014, at my parish's afternoon Adoration in honor of the feast day. Down on my knees in the church in which I have grown up, I implored the Lord to send me my future husband. I had no idea what He had in store for me…
Ten days later, on May 7, 2014, I posted my most recently written blog on my Facebook page. In 500 words or so, I shared the struggles and joys I'd experienced in the past two years of being a full-time high school teacher and parish youth minister. I thought nothing of the blog after I clicked "post." Who reads those things anyway? Unbeknownst to me, a guy I happened to be friends with on Facebook (but had never met in person due to the fact that we were merely social media friends because of mutual contacts) read the blog I posted and liked it. Smiling ear to ear and knowing that he had to talk to me (details he has since shared with me), that guy sent me a message on Facebook telling me he liked the blog and appreciated my sense of humor. He shared with me that he too had been in full-time ministry for the past two years and that he could relate to everything I shared. He seemed like a nice guy, and I'll readily admit that I thought he was cute (because of course I clicked through his pictures on his profile), so I messaged him back.
And so began a full day of chatting back and forth with a guy from Scranton, Pennsylvania named Tommy. By the end of the day, I knew there was something different about this guy: he was incredibly self-aware, remarkably confident, very easy to talk to, and funny. Despite the fact that we were 1,226 miles away from each other (yes, I Google-mapped it), I wanted to continue talking to him, so when Tommy asked me for my number after a few hours of visiting on Facebook, I didn't hesitate to give it to him. The conversation we began that morning continued that evening with a three-hour phone call. I hung up that night feeling both a sense of excitement and inner peace, the likes of which I'd never had before. This guy was different. This guy wasn't playing games. This guy was totally himself, without reservations, and I liked it. I knew I wanted to get to know him more, despite the fact that we were so far away from each other.
So…we kept talking. Texts back and forth, phone calls in the evening, Facebook chats intermittently throughout the day. He sent me flowers and even got a friend of mine to bring me a donut to work. From over a thousand miles away, Tommy wooed me, and so thirty-two days after speaking for the first time, on June 9, I flew up to Scranton to meet Tommy in person. It was, without a doubt, the boldest thing I've ever done. Flying across the country to meet a guy I'd never met in person? That's not something straight-laced, organized, measured, rational Katie Prejean does. And yet…I got on the plane that Monday morning with a sense of excited anticipation and joyful peace.
Two days into the visit, while cooking burgers together at his family's cottage, Tommy and I began talking about the different types of prayer that we liked and had frequently used before. Naturally, that's what two people deeply steeped in ministry talk about. I began to share with Tommy that I had recently finished the Divine Mercy Novena on Divine Mercy Sunday, just a few weeks prior. Feeling courageous and comfortable, I shared with him that I had prayed for a specific intention to find my future spouse.
Even though we'd only just met, I joked, "I guess it worked quicker than I expected it to!" Tommy's face turned white as a sheet as he kept flipping burgers, so I instantly backtracked.
"I'm just kidding! I'm not saying we're going to get married or anything…we only just met and all, I know that! I mean…you're a great guy and I'd love to marry you someday…"
My nervous babbling continued as Tommy slowly turned to me and said, "You said you just finished praying the Divine Mercy Novena on Divine Mercy Sunday? Wasn't that April 27th? And you said you prayed for your future spouse?"
"Yeah," I said, "but it's not a big deal! I didn't mean to say all that and freak you out. I'm sorry."
"No, it's okay," Tommy said. He continued, nervously, "I just…well, I prayed the Divine Mercy Novena this year too and ended on April 27th, Divine Mercy Sunday, and my intention was to ask God to give me a relationship because I knew that's what I needed. And I wanted that relationship to lead me to my future spouse. And, I don't necessarily know where this is going and I don't know what's in store for us in the future, but…well…here you are, Katie."
The Divine Mercy image revealed to St. Faustina has the words "Jesus, I trust in you" at the very bottom, words that Tommy and I have struggled to authentically pray at different points in our lives, both long before we met and during our entire relationship. Such simple words carry such great weight. To say "Jesus, I trust in you" is to say that I accept and rely on the will of the Lord, above all else. I will take what He gives, and trust that what He provides is sufficient for me. It is a prayer of intense surrender, hard to say and even harder to live. When Tommy and I each prayed the Divine Mercy Novena, built around the image of trusting in the remarkable love and will of the Lord, we did so in the hopes of one day finding one another. In so doing, we were making an act of trust. We were trusting Jesus to prepare our hearts, trusting Him to help make us patient no matter how long it may take, and ultimately trusting (and asking) the Lord to eventually lead us to one another. In our relationship today, as we prepare for marriage and anticipate the joys (and eventual challenges) of the Sacrament, those words "Jesus, I trust in you" remain central. What better mantra to have in our relationship than words of surrender and sacrifice to the will of the One who loves us full and wants what is best for us?
That day at the cottage when we discovered this divine coincidence providence, it was very obvious that this relationship, the least logical, normal, or conventional relationship I'd ever been in, was not something neither Tommy nor I had ever imagined. I would not have chosen someone so loud, not very tall, and I definitely would not have chosen someone so far away. I doubt Tommy would've chosen someone so reserved, introverted, or persnickety about tiny details. But isn't that the beauty of our meet-cute? It wasn't what we could have planned, but it was even better: it was something God had planned for us. And as He's shown us time and again, His plans are worth trusting.