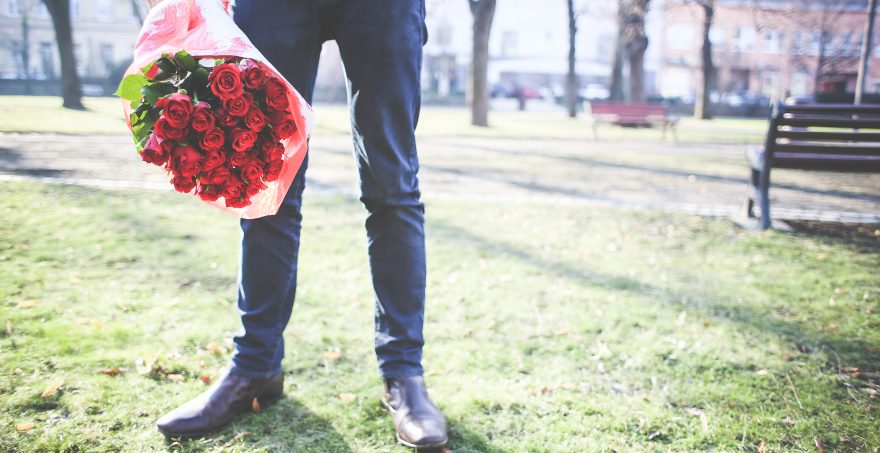 Megan and I don't have a riveting first meeting for the story of our romance; unlike most romantic couples, we were both discerning celibate vocations when we first met. There was no flame available to be ignited and no love-at-first-sight to be had because neither of us really had our eyes open. We just met and that was that. We had eyes enough to admit in hindsight that we found the other attractive, but we simply remained faithful to our state in life and were only open to more when those states were changed in the years to follow.
It's rather interesting that we hadn't met previously, given the similarity in our histories. We were both born in Chicago, and our families moved to adjacent suburbs in Dallas where we grew up. We literally lived just a few miles apart off the same major road. Megan finds it hysterical that I used to work at the movie theater she frequented during her childhood and wonders if I might have ever served her popcorn. God only knows and we trust He had a plan for our meeting when we did.
We first met in Washington, DC in the fall of 2014. I was a seminarian discerning the priesthood for the Diocese of Fort Worth and began studying at The Catholic University of America in 2012. I befriended the community with whom Megan was discerning before she arrived in DC. A fellow seminarian had a connection to the community through his friend who was also from Fort Worth and we would visit the community for dinner on occasion. Two years into my time in DC, Megan was transferred to that house where I had already formed friendships. There was nothing exceptional about my friendship with her, except that we shared a hometown and the same school campus when Megan began her Master's program. Our acquaintance was short-lived as we lost touch when I returned to the diocese for an internship the following year. Little did either of us anticipate the dramatic changes that year had in store.
Within the next 18 months, we each realized that our vocations were not the respective paths we were on. In prayerful discernment, Megan recognized she was not called to consecrated life and I realized that I didn't have a vocation to the priesthood. We both discovered a call to holiness through the vocation of marriage. Unbeknownst to me, Megan completed that discernment in the summer of 2016. After I came away from seminary later that year, we reconnected as friends the following semester – the first time we were both available to date.
After coming to know Megan more in these new circumstances, it seemed like a no-brainer that I would ask her out. I was impressed with her spiritual maturity, theological education, sense of humor, athleticism, striking good looks, and so much more. That Megan was a "good catch" seemed evident to anyone who knew her. I still recall a facetious comment from one of my seminarian friends after I was out of seminary, "Now that your wings are no longer tied down, when are you going to ask Megan to marry you?" We both laughed at his remark. Little did he know at the time that I had in my mind the hopes of dating her and little did I know that six months later I actually would be asking her that very question!
I think one of the reasons it was so easy for Megan and me to fall in love was because of how we connected on so many levels. We each spent several years in religious formation, which led to developing many shared qualities at our deepest level: namely, how we followed Christ and practiced the Catholic faith. We also both had similar backgrounds in theology, so we were reciprocally teachers and students of the other in that regard. We had similar family backgrounds, core values, and viewpoints on everything from religion to politics. We even shared an interest in playing volleyball and rooted for the same hometown sports teams! I could go on and on about our similarities.
But, I could make an equally extensive list of our differences, beginning with the obvious difference that I am very much a man, and Megan is very much a woman. Insert every stereotype gender conflict here. One of the first pieces of advice given to us by our spiritual advisors was to read the book, Men are from Mars, Women are from Venus. As much as our faith likes to emphasize the complementarity of man and woman, sometimes we can lose sight of that in the thicket of conflicts over our differences. While I certainly appreciate our complementarity and compatibility–and absolutely love Megan's femininity–our courtship has not been without its challenges.
Eventually, the new-car smell of romance faded and the reality of loving each other as fallen human beings became more apparent. In addition to our gender differences, we were navigating the diversity of our personalities, our cultures, and our upbringings. Not to mention the stress we each felt with making career transitions, finishing grad school, and adjusting to our new paths of life. All of this ultimately impacted how we related to one another. But despite the challenges, growing alongside one another has been the most rewarding experience of our lives. There is no one else with whom I could imagine spending the rest of my life and sharing the adventures that it brings.
After much prayer and discernment, I've come to believe that God has been bringing Megan and me together. I recognize myself loving in ways I had never experienced and I've discovered new doors to my heart that I never knew existed. I am profoundly moved by how I need to grow in holiness to love Megan as I am called to love her in marriage – the way Christ loves us. Although that call is "way above my pay grade," I am willing to accept that challenge with the help of God. I believe it is God's grace that has formed us to be so remarkably compatible. And I trust it was His plan that we found each other when we did, have come to love each other as we do now, and hope to love one another for the rest of our lives together.