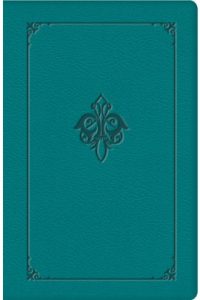 When I opened the mailer packet and pulled out Manual for Women by Danielle Bean, I immediately got a good impression of this book. The soft, flexible leatherette cover on the pocket- or purse-size book felt good in my hands, and the elegantly incised turquoise cover and silver-edged pages pleased my eyes. But we must not judge a book by its cover, so I soon began turning the pages to see what they contained.
Manual for Women starts with "How to Use This Manual," a note from the publisher that advises that you can read the book "anyway you want. And anywhere you want: at home, in the adoration chapel, at the YMCA or playground while the kids play . . . in bed, on the couch . . . It also tells us that author Danielle Bean is a wife, mother, writer, editor, TV personality, and brand manager at CatholicMom.com, besides being a devoted Catholic who is well versed in the Catholic tradition.
The book has two parts. About one quarter is written as if Bean were speaking directly to women, and the remaining three-quarters is a selection of texts and excerpts from the Church's tradition. You could think of Part One as thought-provoking and Part Two, while also being intellectually stimulating, as prayer-provoking.
In Part One the author addresses five feminine gifts: receptivity, sensitivity, compassion, beauty, and generosity. She approaches each feminine gift from a personal and theological (yet very accessible) perspective. For each she describes Mary as an exemplar of the gift. In "Getting Practical," a sixth chapter in this section of the book, Bean realistically acknowledges the challenges women experience in everyday life and suggests ways to move forward in prayer, in marriage, and in personal development. She gives sensible suggestions for balancing work and family life.
In Part Two, "Wisdom and Prayers for Women," Bean offers selections from other people for reflection: the Catechism of the Catholic Church, papal texts, Scripture, saints, and writings of contemporary Catholic women. All are suitable for spiritual reading. Many different prayers, some familiar and some less so, make up one chapter. The last chapter of Part Two is an eleven-page collection of lovely poems and hymns.
The book closes with "A Heartfelt Thank You to all Women from a Saint." Be sure to go to the end of this Manual for Women to read this message written for you. If you haven't already guessed who wrote the message, you will recognize the name of the saint who beautifully expressed the dignity and vocation of women over and over again.
About the Reviewer
Mary Ann Paulukonis is a wife, mother, and grandmother whose life also includes artistic pursuits, writing, speaking, and ministry consulting.