Men, Women, and the Mystery of Love: Practical Insights from John Paul II's Love and Responsibility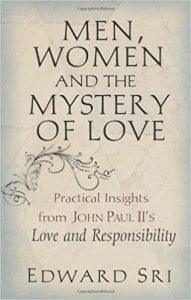 Many know about St. John Paul II's prolific work in the realm of male-female relationships. Perhaps you've heard of his catechetical audiences on the theology of the body, but have you encountered his lesser known pre-papal work, Love and Responsibility? This book, which seeks to explain the human experience of love and sex, and to promote responsible and redemptive relationships, was the fruit of Karol Wojtyła's (later Pope John Paul II) pastoral ministry to young people as they struggled in romantic relationships.
Unfortunately, with section titles like "Metaphysical Analysis of Love" and a reliance on Latin terms and uncommon language, this deeply philosophical work can potentially be a bit too dense for the average reader. That's why Edward Sri, a professor of Scripture and theology at the Augustine Institute in Denver, wrote Men, Women and the Mystery of Love: Practical Insights from John Paul II's Love and Responsibility. With this book, Sri aims to make Love and Responsibility more accessible to readers. This can firstly be seen in the difference in length between Sri's and Wojtyła's works – Sri's is 165 pages, in comparison to Wojtyła's 310. In addition, Sri succinctly summarizes Wojtyła's often lengthy chapters and includes practical examples which explore how to put Wojtyła's thought into practice.
Structurally, Edward Sri's twelve chapters correspond to various sections in Love and Responsibility, and he provides the page numbers of the H.T. Willets translation of the original work at the end of each chapter. This is useful if any topic in the chapter especially piques your interest and you would like to read about it in depth in the original work. Sri chose to reorder some of the material presented in the original work in his chapters 3-5, which makes following along in the original text more difficult. However, the structure that Sri imposes on the text makes sense and provides a smooth pedagogical narrative.
Sri collects material into several charts so that readers can more easily see the juxtaposition of concepts. Sri includes these charts primarily after sections that involve many definitions or other divisions of concepts. For example, the chapter on responsible love includes a chart entitled "Is Your Love Mature?" (83).The chart has a column for "Immature Love" and a column for "Mature Love," with four characteristics in each column. Charts like this enable the reader not only to recognize in a visual manner the difference between mature and immature love but also to consider his or her own life in light of these categories. The charts also provide well-placed breaks in denser sections of material, preventing the reader (hopefully!) from fatiguing.
A final positive structural element of the book is the inclusion of discussion questions at the end of each chapter. These 6-7 questions ask the reader to reflect on the material presented in each chapter. There are straight-forward questions testing your comprehension of the chapters, and brainstorming questions which ask you to consider some practical ways you can apply the material. I particularly liked the analytical questions which asked you to comment on an outside source (such as a quote from C.S. Lewis or George Weigel) given the knowledge you have gained from the chapter. The inclusion of questions makes this book a useful guide for book clubs, classrooms, or marriage preparation classes, as the author suggests in his introduction.
Sri's "cliff-notes" version of Love and Responsibility seeks to explain how truly fulfilling romantic relationships are created and nurtured. Its central point is the "personalist principle" which states that "…a person must not be merely the means to an end for another person" (9). The entire book develops around this one notion, which surprisingly informs all aspects of male-female interactions. Wojtyła through Sri tackles the subjects of friendship, sexual desire, emotional attraction, chastity, contraception, and more in his explanation of how humans were created to relate to each other.
Once Sri made Wojtyła's language accessible, I was impressed by the former pope's grasp of the deep, mysterious feelings that arise when humans love. He put words to concepts that I have felt but never attempted to express, like the notion of "emotional chastity" (108). Sri succeeds particularly in presenting Wojtyła's discussion of the differences between women and men when it comes to love. Many of his observations ring true in common sense ways – for example, men experience sensuality in a different and stronger way than women do, and women tend to expect a deeper tenderness in marriage than their husbands do (119, 132).
The content of the book is challenging – not challenging as in "difficult to understand," but rather "challenging" in the sense of requiring you to make a choice. The book presents a beautiful vision of "betrothed love" in which there is the possibility of total self-gift and what Wojtłya calls the "absorption of shame", when mature love destroys the need for us to conceal ourselves from our beloved (Wojtyła, 184). If you believe what Love and Responsibility posits about male-female relationships, you will be compelled to respond to it by living in a way that reflects this truth. Sri begins his introduction with a quote from a friend about Love and Responsibility that sums it up: "This is dangerous. Don't let my wife see this!" (1). Even though simplified, Sri's explanation of the key concepts of Love and Responsibility is dangerous – it can completely change how you view your sexuality, the opposite sex, and relationships.
Overall, this book is an ideal stepping stone to one day reading the full text of Love and Responsibility, or as a companion book to the original text. The quotes Sri includes from the original book left me wanting to know more. His explanations of the quotes gradually made me comfortable with Wojtyła's writing style and made me yearn to read more of his beautiful, unique language. Sri's practical suggestions for implementing the philosophy of Love and Responsibility will appeal to people who at first find Wojtyła's writing confusing or disconnected from their lives. Sri's book would enable even those who have already read Love and Responsibility to dive back into the text better equipped to relate it to their daily lives.
About the reviewer
Juliana Vossenberg is the Summer 2015 intern for the Secretariat of Laity, Marriage, Family Life, and Youth at the United States Conference of Catholic Bishops.
Disclaimer: Book reviews do not imply and are not to be used as official endorsement by the USCCB of the work or those associated with the work. Book reviews are solely intended as a resource regarding publications that might be of interest to For Your Marriage visitors.