My Wife is in the Hall of Fame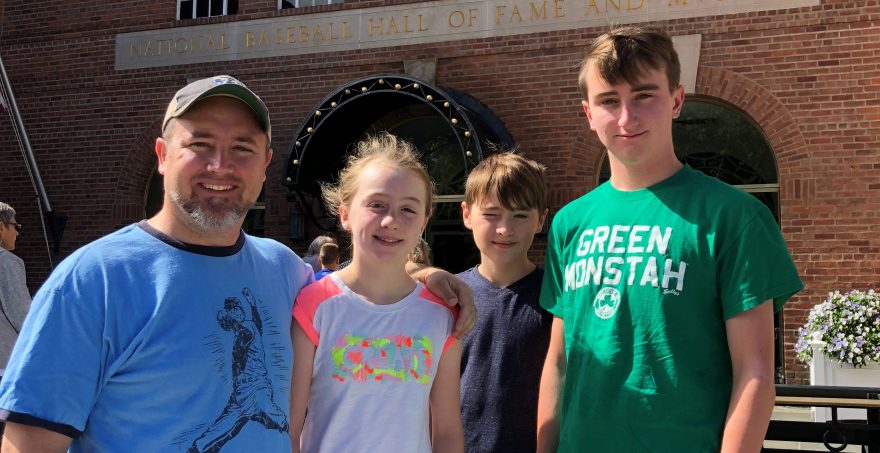 We made a family trip through the northeast recently, and somewhere between Niagara Falls and Boston, it struck me that we must be near Cooperstown, the site of Major League Baseball's Hall of Fame.
I'm a huge baseball fan, and honestly I can't account for why I hadn't thought of this before we left, but sure enough—we were passing right by it. So we carved out a half day to make a stop. I was ecstatic.
Here's a partial list of some of the artifacts that just blew me away:
The ball Babe Ruth hit over the fence in Yankee Stadium for homerun #60 in 1927, Ty Cobb's glove, Willie Mays' cleats, hats worn by Nolan Ryan during each of his seven no-hitters, even the bats (Wonderboy and Savoy Special) used by Robert Redford in the movie, The Natural. I'm no fan of the Yankees, but Lou Gehrig was my first hero, and they had his locker in the hall, complete with his jersey, bat, and the trophy his teammates gave to him when he made his "Luckiest Man" speech on July 4, 1939.
To stay on schedule for our trip, we had two-and-a-half hours there, but Stacey wisely allotted me two hours, knowing that I'd go over that. I was agog. Everywhere I turned I saw a new treasure from baseball's past. Each item had a story connected to it—either a character or a moment—and they were all firing in my mind as I walked around. I could have spent two days there, I think.
Naturally, my pace was different than the family's. The kids wandered through as they did any museum—stopping here and there. But there was just too much to try to tell them about: here's Stan Musial's bat—he was one of the greatest Cardinals to ever play the game, and a great Catholic; here's the glove Yogi Berra used to catch Don Larson's perfect game in the World Series; here's Walter Johnson's hat—he was maybe the best pitcher ever.
Yeah, yeah, Dad—we get it. They were good at baseball.
So, in the end, I went through the exhibit like a skinny man at an all-you-can-eat buffet. More pizza! More ribs! Leave room for pudding! I was wiping drool off my chin as the family tugged me into the car to continue our trip.
Later in the trip, as I was yapping on and on about the things we saw there, Stacey mentioned that she felt rather alone through the experience. And it dawned on me that I'd been so hungry to take in the sights that I'd left the rest of the family to fend for themselves. Which was a big mistake.
In fact, in hindsight, it became immediately apparent that the only way the experience could have been better would have been to share my joy with her—to let her in to the memories and stories and moments that were coming to mind for me. It would have built a feeling of togetherness. As it was, the family made a detour through a mildly-interesting stop to allow me two hours of paradise. Generous of them, but I could have been less selfish.
You can only share so much with kids, but in the end, children follow the example of their parents. Had I made a better effort at welcoming Stacey into my experience, they would have followed along, and it would have created a better connection in the family by allowing them all to better understand my interest and passion for the game.
So, the rest of this summer, I'm doubling down on sharing experiences together. Not just having experiences in the same place and time together—but sharing them. For an introvert like me, that means remembering to talk about the thoughts and feelings I'm having during those experiences.
Yes, baseball is a grand game. But what makes it great is the way it connects generations—parents to children, siblings to cousins. In that sense, it's a tradition. But without that connection, it's just a game.