Prayers for the Newly Married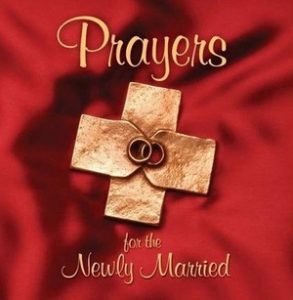 Don't let "Newly Married" in its title prevent you from giving this attractive book to a couple on their first or fifth anniversary. Not only does the book's square, hardcover format and reasonable price make it an ideal gift, but it also has prayers to last for a lifetime of marriage.
The small volume is not limited to prayers, either, although it certainly ought to foster a couple's conversation with God. Each "prayer" consists of two or three reflective paragraphs, a few verses from Scripture and an original prayer. Prayers, in plain English that might influence a couple to pray similarly on their own, are arranged by theme: daily life, sexual love, families and friends, children and special anniversaries.
Author Kathleen Finley has been married more than 30 years and has written numerous books, including some with her husband.
About the reviewer 
Mary Ann Paulukonis is an artist, writer and consultant for marriage and family ministry.
Disclaimer: Book reviews do not imply and are not to be used as official endorsement by the USCCB of the work or those associated with the work. Book reviews are solely intended as a resource regarding publications that might be of interest to For Your Marriage visitors.