Six Sacred Rules for Families: A Spirituality for the Home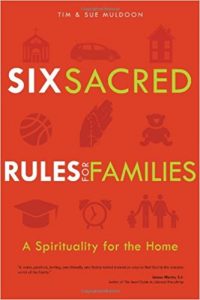 It could appear at first glance that family life and Christian spirituality are barely compatible. With the endless complications confronted in simply holding a household together, some might conclude that no time or place is to be found at home for a family to pray or reflect on faith.
Tim and Sue Muldoon are firmly convinced, however, that spirituality in families is more than possible. In "Six Sacred Rules for Families," the Muldoons propose an approach to spirituality that finds its time and place "right in the messy midst" of home life.
The authors go so far as to recommend that parents pray for help with finding God "in financial trouble, stress at work or school, sickness or even death." God indeed is present at home, they hold.
Clearly, the Muldoons are not prompted by their vision of family spirituality to romanticize family life. They know life at home "may be frustrating, debilitating, boring or stressful at times," though other times "it may be exhilarating, peaceful, empowering or reassuring."
Tim Muldoon teaches at Jesuit-run Boston College where he serves in the Division of University Mission and Ministry. Sue Muldoon is a therapist and religious educator.
Family life in the Muldoons' view is a pilgrimage that experiences "highs and lows along the way." They hold, though, that "we do well to stop and reflect on" these high and low points.
One of the six rules for families addressed by the book focuses on this very theme of pilgrimage. "God brings our family together on pilgrimage," the authors state.
As a couple, the Muldoons had the experience of a pilgrimage earlier in their marriage, a life journey related to their struggle with infertility. Today, with three adopted children from China, their pilgrimage is new and challenging in all the ways family life can be.
The pilgrimage located at the heart of a family's life is not a matter of "moving from one happy moment to the next," the Muldoons write. Instead, "there is naturally a sense of building for the long term and drawing meaning from the ups and downs of family life in the hope love will prevail."
As the Muldoons depict it, a family's pilgrimage encompasses "moments of doubt and darkness as well as moments of crystal clarity, as if the fabric between heaven and earth has been stretched so as to become translucent."
Their six sacred rules "can be described as basic statements of how to look at the world the way Jesus did," the authors explain. They acknowledge that their own family "doesn't perfectly reflect these rules every day," and they "doubt that anyone's family does or even can."
The rules "point to a simple truth: Life with God is better than life without God, and life with others is a privileged way of encountering God in love."
Added to the "rule" characterizing family life as a pilgrimage are others stating, for example, that the love among family members "leads to joy," that "God will help us" and that family members need to learn what kinds of desires lead to freedom and what kinds lead toward entrapment.
The purpose of the rules, the authors point out, is "not fundamentally about trying to get everyone to do the same things." Rather, the rules are about helping all family members "live life to the full as God intended."
One section in "Six Sacred Rules for Families" is designed to help families learn to pray with Scripture by reading a story together and putting each family member's imagination to work in a discussion of it.
There is, for example, the story of Zacchaeus, the tax collector who climbed a sycamore tree to get a better view of Jesus as he passed by (Lk 19).
The Muldoons suggest that family members talk about Zacchaeus as someone who "was not particularly well liked," while also imagining what he looked like, how he acted and even what kind of car he might drive if he were alive today.
Zacchaeus is interesting because "he was willing to see past his small desires to wonder what Jesus was really all about," the authors comment.
The Parable of the Good Samaritan (Lk 10) is another of the stories recommended to families. The Muldoons regard it as "a kind of moral catechism" that illustrates "the challenge and beauty of living compassionately."
This story about a Samaritan stopping along the road to care for a man who was robbed and beaten "appeals immediately to the imagination," the Muldoons note. "One can see the road, the travelers, the disgust or unease of those who passed by" without stopping to give care to the injured man.
"The point of cultivating imagination in a biblical story is that it allows both adults and children to encounter the story in more than an abstract way," according to the Muldoons. They write, "Just as an ordinary story can make you look at the world in a new way, so too can a gospel story make you look at Jesus in a new way."
"Six Sacred Rules for Families" introduces parents to a variety of ways of helping children "look at the world the way Christ did." It invites families, moreover, to think of faith as "a way of living with hopeful conviction that life is meaningful."
For the Muldoons, a family's life "provides ample opportunity for awareness of the slow and gentle work of God."
See also: Review of Longing to Love by Tim Muldoon (reviewed by David Gibson)
About the reviewer 
David Gibson served for more than 37 years on the Catholic News Service editorial staff.
Disclaimer: Book reviews do not imply and are not to be used as official endorsement by the USCCB of the work or those associated with the work. Book reviews are solely intended as a resource regarding publications that might be of interest to For Your Marriage visitors.