The Forgiveness Book: A Catholic Approach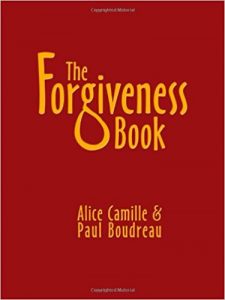 Right up front the authors, a priest and a religious educator, note that Catholics don't have a lock on the forgiveness process. They use the word "catholic" in the subtitle because it is catholic (note lower case "c"), that is, universally applicable.
Forgiveness is not the provenance only of married couples, either, but it certainly is of special interest to them. "The alternative to forgiveness is…hardened hearts, broken relationships, memories full of shrapnel, and families or communities paralyzed and divided."
Couples blessed with perfect marriages may not need this book, but the rest of us can profit from it. Here are a few things "The Forgiveness Book" can do for an individual or a married couple.
Illustrate the consequences of resentment toward God or another person and show how to move beyond anger.
Open up some wisdom of the ages as handed on by Scripture and public figures.
Describe how the five stages of forgiveness are part of the sacrament of reconciliation.
Clarify what admitting guilt entails and suggest how to make compensation for damaging a relationship.
Explain how to engage the power of forgiveness.
This book is at the same time easy to read and thought-provoking, filled with stories and sprinkled with humor. It is suitable for personal reflection as well as spousal dialogue and concludes with a valuable appendix containing an examination of conscience, prayers and Bible verses, and lists of print and film resources.
About the reviewer
Mary Ann Paulukonis is a writer, speaker and consultant for leadership and ministry who knows from experience that forgiveness is essential.
Disclaimer: Book reviews do not imply and are not to be used as official endorsement by the USCCB of the work or those associated with the work. Book reviews are solely intended as a resource regarding publications that might be of interest to For Your Marriage visitors.