Your Family on Pilgrimage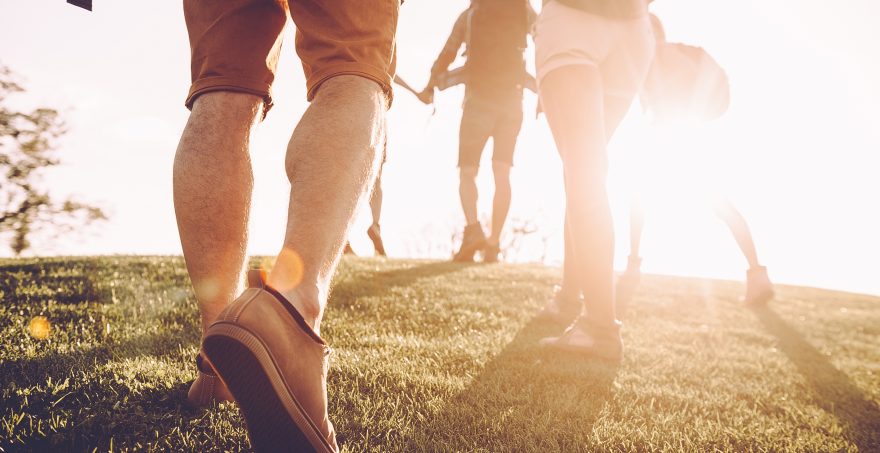 Recently, a friend reached out to share the news that he's preparing to go on a one-month, 400-mile walking pilgrimage along the Camino de Santiago de Compostela ("The Way of Saint James") from Portugal to Spain.
"Text me your intentions if you'd like," he said. "With an average walking day of around 12 miles and 7 hours, I'll welcome opportunities to stop at a local church and light a candle!" (He shared that he's not looking forward to three days when he'll need to walk 20 miles in order to get to the next hostel.) We'll definitely be sending intentions his way, and can't wait to learn about the graces he'll experience.
Granted, not many of us may have such an epic pilgrimage on our schedules this year—but no matter where we are or what we're doing, every last one of us is fundamentally a pilgrim. That's the urgent insight that Journeys of a Tin Can Pilgrim: Finding Joy in Everyday Life author Lynda Rozell is eager to share with families.
Many years into her career as a corporate lawyer, Lynda sensed a powerful call to take up the ancient Christian practice of pilgrimage by traveling the country in an Airstream. "Lynda seeks to live out her Catholic faith in her ordinary, everyday life as she travels around the country visiting campgrounds, RV resorts, parks, and religious sites," a summary of Lynda's ministry explains. "Through engaging stories, she invites others into the communities she has found on the road and shares the beauty of Creation and spiritual signposts that continue to lead her to radical trust in God."
At a gathering of families we hosted with Lynda, she gave examples of how—as a full-time nomad—she encounters challenges and opportunities to witness to Christ's love. She suggested that parents model "pilgrim behavior" for their children as life is essentially a pilgrimage to heaven. And true to her love of campgrounds, she recommended family camping as a way to learn patience and how to help one another on the journey. "My pilgrimage ministry is based on witness, being present, and planting small seeds," Lynda said. She blogs at Tin Can Pilgrim and her book is here on Amazon.
Part of the joy of parenting is deepening the Family Culture of our Trinity House. In light of our friend's Camino pilgrimage and Lynda's inspiring witness, we can't help but reflect on our own family culture with questions like these:
Are we instilling "pilgrim behavior" in our children by keeping their eyes on the true goal (heaven) of this daily journey?
If our spouse and children are fellow travelers on this pilgrimage, how are we helping them on the path?
Are we "traveling lightly" as a family and trusting God to provide for us?
Candidly, it's so easy to lose our pilgrim mindset. While we are blessed by the memories of pilgrimages we each took many years ago, we recognize that this pilgrim mindset can atrophy through our busyness, anxiety, lack of trust, and over-focus on material things. With bills to pay and mouths to feed, how can we realistically form our children as pilgrims?
When we posed that question to Lynda, she shared these practical points which we encourage you to reflect on as you look to form your own family culture:
Praise God on your family's pilgrimage. Pray and sing together.
Think about what your family is carrying on your pilgrimage. Do you need to detach and downsize?
Try family camping as a way to experience a mini-pilgrimage.
Realize that our travels do not go as planned. When you have detours, are you growing in patience and understanding?
Find rest on your pilgrimage (physically, mentally, spiritually) and help others do the same.
Our friend who has plans to walk the Camino de Santiago signed off his email with the words, "Buen Camino." It's a needed reminder that every one of us is, at the end of the day, a pilgrim on a camino. We can all be praying for one another's intentions as we walk. May the Lord bless your family as you walk with Him today, tomorrow, and always!
Buen Camino!