Interview with Three Catholics Working To End Domestic Violence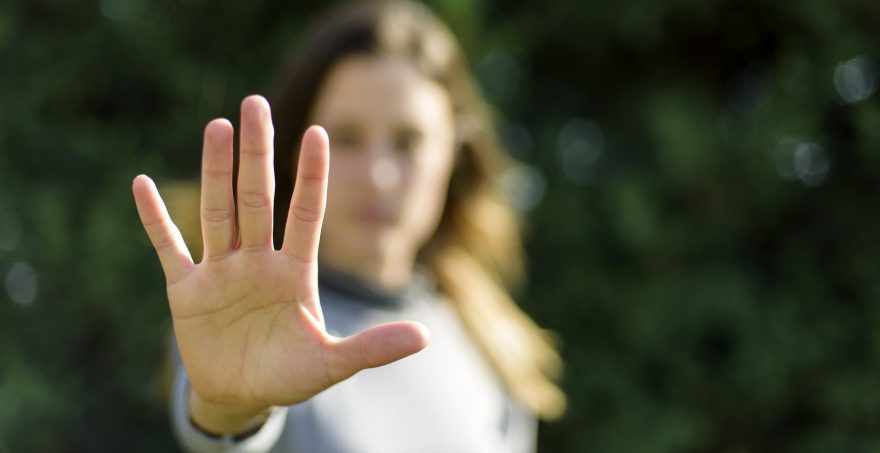 October is Domestic Violence Awareness Month. To put a "face" to what can be done to combat domestic violence, For Your Marriage interviewed three Catholics who are working to raise awareness about domestic violence, to help victims and abusers, and ultimately to build a culture of peace where the family is a safe place for men, women, and children.
The three people interviewed are:
Sharon O'Brien, PhD, Archdiocese of Washington DC. Sharon is a Family Violence Research Consultant and is also the co-founder of the Catholic lay ministry Catholics for Family Peace.
Fr. Chuck W. Dahm, O.P., Archdiocese of Chicago. Fr. Dahm is the director of Domestic Violence Outreach for the Archdiocese of Chicago.
Dennis Butler, SPHR (Senior Professional in Human Resources), Diocese of Paterson, NJ. Dennis is the Chief Human Resources and Compliance Officer for the diocese and is also a member of the organizing committee for Catholics for Family Peace.
Please tell our readers about your work as it relates to domestic violence.
Sharon: I am an independent Family Violence Research Consultant. In 2003, I completed my graduate work in Human Development on the topic of family violence. Since then, I have worked on research projects, am a journal reviewer, write and am a speaker and trainer on how faith communities can respond effectively to domestic abuse. Most of my work has been with interfaith or faith specific boards which address the issue. Since 2010, I've worked with a group of other Catholics to create the lay ministry Catholics for Family Peace.
Fr. Dahm: I preach in parishes and then develop a ministry committee to raise awareness about domestic violence (DV) and to train staff and parishioners to be sensitive in receiving victims and finding resources to help them.
Dennis: As a Human Resources professional, my work in domestic violence/abuse has focused on recognizing the impact of domestic violence in the workplace. This impact ranges from the very "human" impact on the victims and their co-workers to the more "business" related impact on productivity, safety and medical costs. I have worked to educate business leaders and others to understand that domestic violence is not just a personal matter in which we should not be involved; rather it has a profound impact on our ability to get our jobs done, and everyone needs to see it exists, name it for what it is, and respond appropriately when it occurs.
Working for the Church, this role has expanded to include understanding and educating others about the impact on not just the ministerial workplace but on ministry itself.
How long have you been working with the issue of domestic violence, and what inspired you to work in this field?
Sharon: I've been in the field for about 10 years. I had wanted to study the role of forgiveness so I always say that God inspired me to focus on domestic abuse – I would not have thought of it myself! I am inspired to stay in the field by my interfaith colleagues. I want to help create for the Catholic community what some other faith communities have – an entity where clergy and pastoral care workers can seek training and guidance on the topic and where parishioners can get solid information on Catholic teaching about preventing domestic abuse and promoting family peace.
Fr. Dahm: For 17 years. I hired a pastoral counselor who opened my eyes to DV in our parish.
Dennis: I began working in Domestic Violence in 2002 at Liz Claiborne, my former employer. Liz had been involved in DV awareness and education for many years as the focus of their cause marketing program. As the head of employee relations, I faced a situation which I wasn't sure how to handle. I had received a phone call from one of the other HR professionals seeking help for an employee. She described a woman who was very talented and considered a "rising star" who had just been promoted. She was concerned because recently there had been problems with her work, she was calling out sick a lot, and she was very curt with her co-workers. She had lost a lot of weight (only weighed 77 lbs.!) and had told the HR professional that her husband beats her. My colleague asked me what she should do. Although I had been working in Human Resources for many years, I didn't know what to tell her.
I then started my own education and awareness efforts as I helped develop and implement a DV program that focused on the impact in the workplace. By the time I left Liz 7 years later, I had managed the workplace response to over 150 DV incidents affecting the workplace ranging from fairly routine performance issues to the murder of one of our employees by the father of her children.
I have continued this work in my position at the Diocese by establishing workplace policies and protocols and establishing a DV response team to address the issues as they occur in the ministerial workplace. I have also continued my efforts to educate others as part of the organizing committee for Catholics for Family Peace, the government agencies and the Corporate Alliance to End Partner Violence.
What do you wish the average "Catholic in the pew" knew about domestic violence?
Sharon: Oh, so many things! But three primary points:
a. Abuse and violence can and does happen in "good Catholic families". It is an equal opportunity destroyer across faiths, race, and socioeconomic classes.
b. It is not "Catholic" to be abusive and violent nor is it "Catholic" to accept abuse and violence in the family. Abuse is based on an erroneous set of beliefs, attitudes, and behaviors, all of which can be changed.
c. Whether one is the abuser, the abused, or the child witnessing the abuse, I would like them to know that God loves them, does not want them to suffer or cause suffering, and has not abandoned them – they can ask Him specifically for guidance as to the next right step.
Fr. Dahm: It is all around us, much too common and unseen. As the bishops have written, "No one is expected to stay in an abusive marriage."A husband or wife who is being abused should know that they can physically separate from their spouse for the sake of their safety and their children's safety.
Dennis: Ideally, every "Catholic in the pew" needs to know three basic things about domestic violence. They need to: RECOGNIZE the signs of domestic violence in themselves and others which can be both physical and psychological; RESPOND appropriately by being supportive, sympathetic and non-judgmental, but not acting as a counselor or rescuer; and REFER them to someone qualified to help them act safely and appropriately by giving them the telephone number for the National Domestic Violence Hotline (800.799.SAFE (7233)) or a local domestic violence agency.
What can Catholic families do to help prevent domestic violence, to help those who are in abusive situations, or to help build a culture of peace?
Sharon: It is imperative to know that we may be God's answer to someone's search for help! We (Catholics for Family Peace) recommend the R3 approach – recognize, respond, and refer. There is a free app which explains the core of it. In essence, recognize abusive behaviors: we recommend the National Domestic Violence Hotline (NDVH) website for information. Respond to people with the heart of Jesus: listen and believe; they may be telling you of deep pain and trauma. Refer: know the number of the NDVH so you can share it when appropriate.
It is so important to get informed and to reflect God's love to each other. Survivors tell us all the time that the thing that helped them seek help was someone reflecting their worth as a person. It could have been an expression of concern, an encouraging word, or a factual statement about how well they did something. I love the story of an abused wife with a large family who realized for the first time that Catholics cared when she saw the When I Call for Help resource card in her church's restroom. It was the first time she had an inkling that she was not the only Catholic woman to experience domestic abuse. How simple is it to keep resource cards in the church restrooms?
I do have three specific points:
a. Pray each day for all those touched by domestic abuse that they may seek God's wisdom and strength to take the next step to experiencing peace.
b. Memorize the National Domestic Violence Hotline number so you can share it with someone in need. It is 1-800-799-SAFE (7233). Also, check out their website for much useful information.
c. Learn to practice personal peacemaking behaviors. Abuse is more than physical. It includes the emotional and psychological ways we use to hurt each other, leaving deep wounds. I recommend highly that people check out any of the various 12 step programs as a way to learn peaceful responses and in the process learn to prevent abuse and violence. There are about 25 different types of 12 step programs. They are free, anonymous, and are deeply rooted in our spiritual tradition of depending upon God for wisdom and direction. For anyone who grew up in a dysfunctional family (immediate or extended), I recommend they visit six meetings of an Adult Children of Alcoholic and Dysfunctional Families (ACA) Group to see if it helps them to practice peacemaking behaviors. It might be God's answer on how to find a solution.
Fr. Dahm: Parents must instill self-esteem in their children and help them realize that they should never allow anyone, even a loved one, to abuse them in any way. They need to communicate to anyone they know that they do not have to stay in an abusive relationship.
Dennis: Catholics can prevent domestic violence by creating awareness in themselves, their children and their families that abuse, whether physical or psychological, is never acceptable. To help the abused, it is important that once they see signs of an abusive relationship, they respond empathetically and in a non-judgmental way. They should not act as counselors or "take sides"; rather, they should refer them to someone who can help through either the National DV Hotline (800.799.SAFE (7233) or www.ndvh.org), a local Domestic Violence agency or a member of the clergy. To build a culture of peace, Catholics must speak to their children early so they understand violence in any form is not acceptable in any relationship, whether on the school playground, in a dating relationship or in a marriage. Victims and abusers must know help is available to break the cycle of violence.
What aspect of the USCCB statement "When I Call for Help" has been most helpful for your work?
Sharon: I like every word of it and my personal copy is all marked up. I find that the line that astonishes and helps people the most is on page 1: "The person being assaulted needs to know that acting to end the abuse does not violate the marriage promise." I think this is so helpful because there is confusion about what things we should "offer up as suffering" and what the marriage promise of "better or worse" means. The Bishops have made it clear that abuse and violence in a marriage needs to be addressed.
Fr. Dahm: The quote mentioned above (in question 3).
Dennis: Overall the USCCB's statement "When I Call for Help" gives an excellent overview of what domestic violence is and makes it clear that "violence against women, inside or outside the home, is never justified. Violence in any form— physical, sexual, psychological or verbal—is sinful; often it is a crime as well." Even more important, however, is that the statement makes it clear that contrary to what many may have misconstrued, the Bible is never to be used to support the concept that domestic violence is acceptable, even if addressing it means that a husband or wife seeks a separation from their spouse, or even a civil divorce and annulment in certain cases.
What is on your "wish list" in regards to the Church's response to domestic violence?
Sharon: For a book chapter, I outlined how 18 different religions address domestic violence. Thus, I say with confidence that the USCCB wrote and endorsed a comprehensive and compassionate pastoral letter, When I Call for Help. My three wishes are all related to this excellent statement. They are for:
a. Clergy and pastoral staff to read and integrate the pastoral statement, When I Call for Help, into their work. They can find it, homilies, and other resources on our website at Catholics for Family Peace.
b. Each parish to ensure that some entity is responsible for promoting the suggestions, on an ongoing basis, as presented in When I Call for Help. For example, a Wellness Committee, the Young Adult Ministry or the Women and Men's Groups in the parish would be appropriate groups.
c. Parishes to post flyers and information about healthy relationships. Free downloadable materials are available from our website, Catholics for Family Peace (www.catholicsforfamilypeace.org).
Fr. Dahm: Bishops need to speak about this and urge clergy to preach on it at least once a year. Seminarians must be taught about how to recognize DV and respond. Family ministries need to include DV in marriage preparation and other services. Catholic Charities must prepare their counselors in DV counseling. Catholic Charities should have a specific program for DV.Catholic Schools should teach about DV. DREs and principals need to be trained in DV so they can teach their teachers and catechists how to recognize and respond. DV needs to be a topic of a clergy meeting at least once every 5 years.
Dennis: My wish list for the Church on domestic violence is that pastors, priests and Catholic leaders speak out on this important issue on a regular and continuing basis. This should be done from the pulpit, in family life programs and in our Catholic schools. In speaking out they need to help all Catholics, from our youth to our elderly, to recognize the signs of relationship abuse in themselves, their fellow parishioners and students, to respond appropriately to assure the safety of the abused on a basis consistent with Catholic teaching, and to refer the abused and the abusers to get the help they need. They should also encourage praying for those who suffer and cause abuse and for the end of all forms of domestic violence and abuse.