Married Saint: St. Jane Frances de Chantal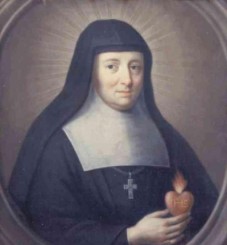 Born: January 28, 1572
Died: December 13, 1641
Feast Day: August 12
Patronage: forgotten people, in-law problems, loss of parents, parents separated from children, widows
St. Jane Frances de Chantal is probably best known for her great spiritual friendship with St. Francis de Sales, with whom she founded the Visitation sisters. Before that, however, St. Jane was a happily married wife and mother who successfully ran a large estate.
St. Jane was born in Dijon, France in 1572. At age 21 she married Christopher, the baron de Chantal. She bore six children, four of whom survived past infancy. She and her husband enjoyed a happy marriage. A witness during her canonization stated: "These two spouses provided a model of a genuinely holy marriage. They had between them one heart and one soul."
Tragically, after nine years of marriage Christopher was killed in a hunting accident. Before he died, Christopher forgave the man who shot him. Jane, however, struggled for a long time. She was finally able to forgive the man and even became godmother to his child.
Jane and her children moved in with her father-in-law, who humiliated and terrorized the young widow for seven years. She endured patiently, even helping to raise his four illegitimate children.
In 1604 Jane's life changed dramatically when she heard St. Francis, Bishop of Geneva, preach a series of Lenten sermons. The two began a friendship that quickly bore fruit. In 1610 they started the Congregation of the Visitation, a religious order for women who could not endure the austerities of traditional orders. The Visitandines flourished and exist to this day in countries around the world.
Jane died in 1641 and was canonized in 1767. Her feast day is celebrated on August 12.
St. Jane Frances de Chantal, pray for us.