Reading Laudato Si in Light of Sexuality, Marriage, and Family Life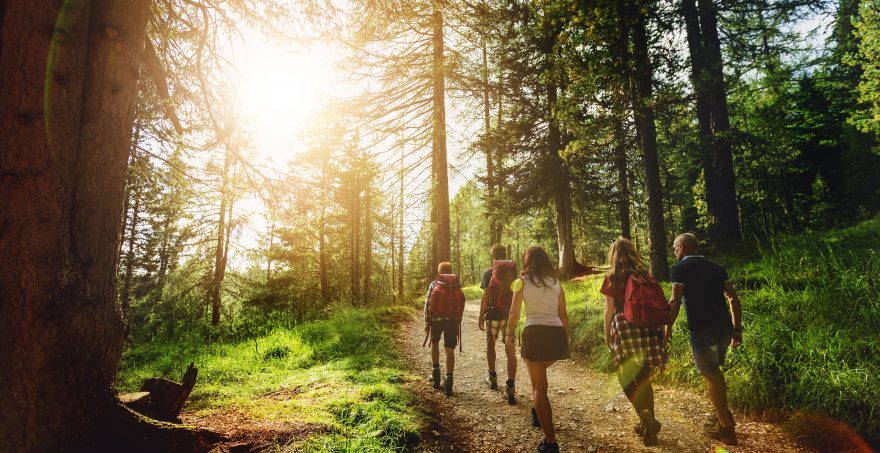 On Thursday, June 18, 2015, Pope Francis released his second encyclical, Laudato Si, "On care for our common home." The encyclical addresses humanity's responsibility to protect and conscientiously cultivate the earth. Ultimately, the Holy Father advocates an integral ecology as the best response to the environmental crisis. This response, illuminated by the Christian faith, is integral because it addresses not only the environmental issues of today, but also various economic, social, cultural and moral ones. In fact, three major themes emerge in the encyclical that relate to human sexuality, marriage, and family life, which are the main topics of the Pope Francis Corner: human ecology, the objectification of creation, and today's "throwaway culture."
Human Ecology
Drawing on the teachings of the two previous popes, Benedict XVI and St. John Paul II, Pope Francis uses the concept of "human ecology" to denote the interconnectedness of the natural environment and human culture [i]. For example, when humanity respects itself, the earth rejoices, but when humanity degrades itself, the earth suffers, too. The Holy Father uses the biblical story of Cain and Abel to illustrate this point. After Cain kills his brother Abel, God cries, "What have you done! Listen: Your brother's blood cries out to me from the soil! Therefore you shall be banned from the soil…If you till the soil, it shall no longer give you its produce" (Gen 4:10-12a). Pope Francis says, "Disregard for the duty to cultivate and maintain a proper relationship with my neighbor, for whose care and custody I am responsible, ruins my relationship with my own self, with others, with God, and with the earth" (LS, 70). Because the "book of nature is one and indivisible," including men and women, all creatures on the earth and the earth itself, "[t]here can be no renewal of our relationship with nature without a renewal of humanity itself" (LS 6, 118). An authentic human ecology recognizes that human beings are an integral part of the environment which we are trying to protect and promote. We need to respect "our unique place as human beings in this world and our relationship to our surroundings" (LS, 15).
Another aspect of human ecology is basic Christian anthropology: humans are moral creatures, created in the image of God with inherent meaning and purpose inscribed in their very bodies. Pope Francis quotes St. John Paul II on this point: "Not only has God given the earth to man, who must use it with respect for the original good purpose for which it was given, but, man too is God's gift to man. He must therefore respect the natural and moral structure with which he has been endowed" (LS, 115, emphasis added). Part of this natural and moral structure is the sexual difference between women and men, which God has created in us, and indeed, in many other creatures. Pope Francis writes, "Learning to accept our body, to care for it and to respect its fullest meaning, is an essential element of any genuine human ecology. Also, valuing one's own body in its femininity or masculinity is necessary if I am going to be able to recognize myself in an encounter with someone who is different" (LS, 155). Sexual difference allows men and women to enter into fulfilling, self-giving relationships, particularly marriage, which is rooted in our human nature as men and women (Catechism, no. 1603). Respecting and protecting the environment, then, includes respecting and protecting ourselves as a part of creation, and specifically our unique gender differences and all they entail: marriage between a man and a woman, fertility, the need for fathers and mothers, etc. The Pope maintains that seeking to eliminate gender difference is "not a healthy attitude" because it rejects the God-given gift of our sexuality (LS, 155).
The Objectification of Creation
Another theme in Laudato Si is the objectification of creation, which Pope Francis treats as a grave issue. He notes that creatures are not "merely…potential 'resources' to be exploited…they have value in themselves" (33). In other words, creation is not just an object to be used. The objectification of creation leads to mass consumerism on the part of humanity, damaging the earth and her resources as well as doing harm to the poor and to future generations. Consumerism is a result of "no longer speak[ing] the language of fraternity and beauty in our relationship with the world," of ceasing to relate to the world as a subject and instead choosing to manipulate and possess it as an object (LS, 11).
Objectification and consumerism can also take place in the human realm. There can be a consumeristic approach to persons when we stop relating to each other with love and respect, and instead seek to possess each other. This is particularly an issue when sexuality is involved, as we see in the story of the Fall of Adam and Eve. In his reflections on the theology of the body, St. John Paul II wrote that after sin enters the world, man dominates woman and their previous relationship of unity and mutual self-gift "is replaced by a different mutual relationship, namely by a relationship of possession of the other as an object of one's desire" (TOB 31:3). Possession and domination of a person mirrors the possession and domination of the earth that Pope Francis seeks to challenge in this encyclical.
At its root, the sin of possession– and indeed all sin – results from humanity's assuming the place and actions of God. The Pope writes that "our presuming to take the place of God and refusing to acknowledge our creaturely limitations…distorted our mandate to 'have dominion' over the earth (cf. Gen 1:28), to 'till it and keep it' (Gen 2:15)" (LS, 66). Pope Francis calls for us instead to relate to the earth in a brotherly and sisterly way. He includes the text of St. Francis of Assisi's hymn, which speaks of "Brother Sun" and "Sister Moon." Our fellow human beings, especially our spouses, are truly our brothers and sisters of one Father; we should accompany them through life, relate to them as fellow children of God, and refuse to treat them in a consumeristic way, as objects.
The "Throwaway Culture"
Lastly, Pope Francis criticizes the "throwaway culture," which is fueled by a vicious cycle of using and trashing precious environmental resources (LS, 16, 20-22, 43). His criticism also extends to a culture that throws away people. He notes that "it is clearly inconsistent to combat trafficking in endangered species while remaining completely indifferent to human trafficking, unconcerned about the poor, or undertaking to destroy another human being deemed unwanted" (LS, 91). And in his first apostolic exhortation Evangelii Gaudium, the Pope described a "throwaway" culture as one wherein "human beings are themselves considered consumer goods to be used and then discarded" (EG, 53).
There are many victims of the "throwaway" mentality – the unborn, the elderly, the poor, the disabled, the lonely, and the orphan. Abandoned spouses and children also suffer from the effects of a culture where divorce and separation are prevalent. Francis' plea to reduce waste should resound also as a plea to reduce the harms incurred by divorce and by treating marriage as a temporary arrangement, a theme the Pope has addressed before. The Pope has also previously spoken strongly about protecting children, whom he considers the "first victims" of the harms of divorce and separation. And he has affirmed that children's lives are never mistakes and thus can never be thrown away; "every marginalized, abandoned child…is a cry that goes up to God." A renewed respect for marriage as an inviolable sacrament, and a commitment to caring for separated and divorced couples and their children, can help reverse the discarding of people.
In conclusion, Laudato Si addresses more than environmental concerns; it also informs how human beings can most naturally and healthily relate to one another. The frequent mentions of "human ecology" in the encyclical reveal Francis' concern that men and women not forget that they are an important part of the natural world, and that they too have inherent meaning and purpose. Laudato Si's warning against objectifying creation encourages us to consider whether we are "possessors" or "relators" to the loved ones in our lives. Finally, the criticism of the "throwaway" culture extends not only to the trashing of natural resources, but also to the discarding of people. One of the spiritual messages of the encyclical is to cultivate a profound sense of humility before the wonder of God and his creation. If we remember our limitations as created beings, we find that we cannot "substitute an irreplaceable and irretrievable beauty with something which we have created ourselves" (LS, 34). The earth and the relationships that are formed with it and on it are sources of great beauty that deserve protection.
About the author
Juliana Vossenberg is the Summer 2015 intern for the Secretariat of Laity, Marriage, Family Life, and Youth at the United States Conference of Catholic Bishops.
[i] See Centesimus Annus (St. John Paul II, 1991), Evangelium Vitae (St. John Paul II, 1995), Caritas in Veritate (Pope Benedict XVI, 2009), If You Want to Cultivate Peace, Protect Creation (Pope Benedict XVI, 2010)