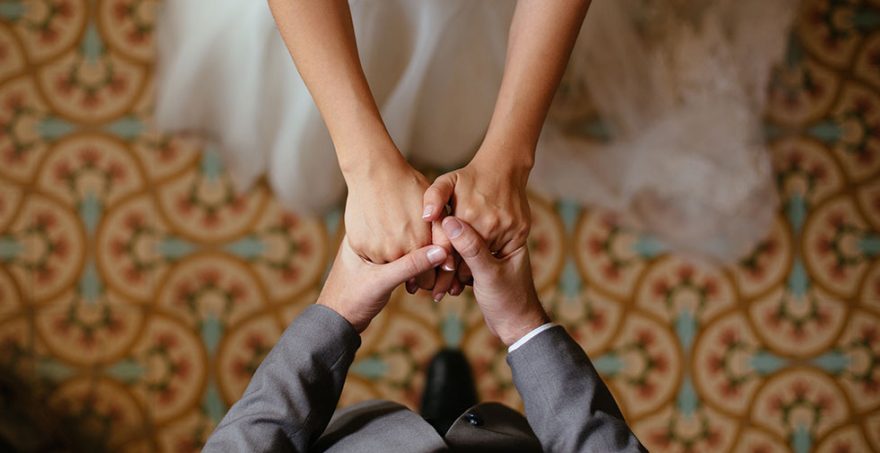 The following is an excerpt from the book It Is Well: Life in the Storm by Chris Faddis, shared with permission from the author and Carmel Communications. In his book, Chris writes about finding out on Easter Sunday 2011 that his wife Angela had terminal colon cancer. She died 17 months later at age 32, leaving behind her grieving husband and two young children. It Is Well is a story of grief, love, loss, and faith.
To purchase It Is Well, please visit http://itiswellbook.com.
I sat with Angela as much as I could, holding her hand, playing music and praying many prayers, yet I would find myself feeling very restless and anxious. There is no more helpless feeling than sitting by a loved one's side waiting for them to die. I felt as if I should be doing something. To move away from the instincts of trying to help her live, of doing everything I could to fight this disease, towards suddenly giving up was painful and heart wrenching. I had discerned our decision to move Angela home with hospice care with the help of very knowledgeable friends who walked me through the process of making this decision. It was clear that Angela's body was in the pre-active dying process, and that there really was nothing we could do to stop it. One friend posed the decision this way: "At some point it is time to surrender to God and if she is in the pre-active dying process, it might be that time to accept death."
I was confident that we had made the right choice, but as I sat in her room, I felt helpless and useless. I would rethink my decisions and question myself. "Am I giving up too soon?" This wasn't helped, of course, by a few well-meaning people who voiced that they thought I was giving up hope. So in my restlessness and uneasiness I would pace, find things to do and find myself getting frustrated. As I would come back into the room, I would look at Angela's peaceful face, and I would realize that my only job was to just be present to her and to wait patiently with her for death. When I finally surrendered to this reality, that my only job was to just be present to her, I felt an incredible peace.
One particular afternoon, just a few days before she died, I sat with Angela and held her hand as I read to her. She would occasionally look up and listen or smile. I would tell her how much I loved and cherished her and she would respond with a faint response. At one point she whispered, "I always knew you would cherish me to the end." As she fell back to sleep, I looked down at our hands and her ring was missing. It had fallen off several times, as Angela was so frail that it was now too large for her finger. She had placed it on the table next to her bed. I picked up the ring and placed it on her finger and held her hand again. I gazed upon our hands, reflecting on that ring and what it symbolized, on our hands and the symbolism of husband and wife walking hand in hand through life. I thought about the first time we held hands. It was on our first date to Cirque du Soleil. At one point Angela had moved her hand near mine and then gently touched my hand. I took her hand till the crowd erupted in applause and a standing ovation. Angela never admitted to holding my hand that night. She would say, "I did not hold your hand that night. I wasn't ready." I would laugh and remind her of the many things she did during that time of friendship – when she supposedly did not want to date yet – like lean on me, touch my hand, and even press her cheek against mine for a long time, as if to wait for a kiss. She would laugh at me and say, "Whatever, I was not that forward." I then thought about when we did finally hold hands after we were "officially" dating. There is something remarkable about holding hands when you are falling in love.
Many people say it's in the kiss that you know, or it's love at first sight; I tend to think it's in the hands. Holding hands was not always romantic, but holding hands was our constant connection to one another. Even when in an argument or a difficult conversation, we would often hold hands. When Angela was struggling with depression, I held her hands many times just to calm her, to soothe her, to help her feel supported. Angela, too, would hold my hand when I was having a hard day or down about my job situation or our financial hurdles. A simple touch of her hand would instantly soothe me.
Through Angela's cancer journey, holding hands had become our primary form of intimacy. Whether Angela was receiving chemotherapy, waiting for surgery or simply resting at home, we would spend lots of time holding hands, talking, praying and simply being present. As I held her hand during this seventeen-month journey, I would often squeeze and hold her hand very tight as I thought about losing her, as if I could somehow hold her tight enough to keep her from dying. Now sitting in our room as she lie in wait for death, holding her hand was literally all I had left. She could hardly speak or even acknowledge my words; I simply had to hold her hand to communicate my love and to be sure she knew she was not alone. Indeed, I would be there till the end.
As I thought about her hands, I also thought about that ring, the one I gave her as I asked her to be my bride and the ring that stood as a symbol of this life-long Sacrament of Marriage. With that ring came our promise to love one another fully and completely until death came for one of us. The wedding ring speaks of permanence, of commitment, of an unbreakable bond between a husband and wife. Yet that ring could not bind her any longer; it could not keep her from dying, and it certainly could not keep her from heaven.
As I sat in this moment, I wanted to capture our hands one last time. I took a picture that I later shared. It is the image of us holding hands with Angela's ring as the focal point of the image.
 A week or so earlier I had verbally told Angela that she was free to go home. My words on that day were, "You took my hand and you have loved me well. When Jesus comes and offers you his hand, you are free to go." After taking the picture of our hands I felt I should say those words again. So I wrote them down and then read them to Angela:
"Till Death"
As if I could keep you longer, I placed this ring back on your finger today. It had fallen off a few times.
Oh, that this ring could keep you here longer. It is a mark of our commitment; it is my promise to love you with my whole heart, and yet there is a love greater than mine that will take you soon. How could this mere piece of gold compare to the love of God, which loves you completely, wholly, and perfectly?
It cannot, so I will hold your hand a little while longer. I will keep putting this ring back on your finger. But when the time comes and He asks you for your hand, you are free to go. Go to that perfect love which makes all things new. Go and be whole again. For now, till death do we part.