A Book of Saints for Catholic Moms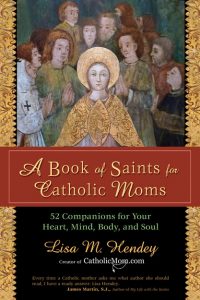 Before Thanksgiving "A Book of Saints for Catholic Moms" arrived in my mailbox, so I set it aside for Advent reading. Each day, usually after sundown when the long winter night had begun, I found a spiritual companion who warmed my heart and enlightened my mind. I'm delighted to have made some new friends and renewed dear acquaintances.
Before I tell you about some of my month's companions, let me tell you how this unusual lives-of-saints book is intended to work.
In her first book, "The Handbook for Catholic Moms," author Lisa Hendey urged mothers to cultivate their hearts, minds, bodies and souls. She followed up with this book as a resource for doing just that.
In "A Book of Saints for Catholic Moms," Hendey introduces a canonized saint or blessed as a prayer companion for a week and provides enough supporters to last a year. With a graphic design symbolizing heart, mind, body or soul, Hendey indicates which aspect of her own life each personage most influenced. The reader can use those symbols to find saintly company for a particular need or follow the 52 chapters in order.
For each saint the author sketches a biography, reflects on what she has learned from the person, lists a few traditions associated with the saint, quotes the person or someone who knew him or her, cites daily Scripture verses and recommends activities — for Mom alone and for mother and children — inspired by the saint.
In addition she offers a family prayer and questions to ponder. If that sounds like a lot of material, realize that each part is brief and that chapters run only six to seven pages.
My choices for daily companions were serendipitous — whoever caught my attention as I looked through the Table of Contents or flipped through the book. Some were old friends like Teresa of Avila and Martha of Bethany. Many were acquaintances with whom I had not connected in some time.
Other names I recognized without knowing much about the person, and still others were unfamiliar to me. In the latter category is Chiara Badano, who died in 1990 just weeks before her 19th birthday. Chiara was an active teen who enjoyed athletics and dancing before she was struck with osteosarcoma, an aggressive bone cancer. During her terminal illness, Chiara, whose nickname was "Luce" ("light"), was a beacon of faith, hope and love. She is a fitting model for the darkest days of the year, able to lighten a mother's heart and relate to teens.
Mary MacKillop's name sounded familiar, as I probably read about her when she became Australia's first canonized saint in late 2010. Yet, it was the theme Hendey perceived in her life — fidelity to the Church — that drew me to spend an evening with Mary MacKillop. Mary co-founded the Sisters of Saint Joseph of the Sacred Heart to educate and otherwise serve poor people.
Working tirelessly to establish ministry in far-flung areas of Australia, Mary encountered some antagonism and got caught in diocesan politics. Her bishop excommunicated her for five months, a painful time during which Mary did not rail against those who wronged her but forgave them. Among the activities Hendey suggests is praying for those who are struggling in our Church or, with children, listing needs in your neighborhood and devising a plan to help.
This Advent I found a kindred spirit in the creative Catherine of Bologna. I learned more about Margaret Clitherow and Margaret of Scotland. The evening I spent with Gerard Majella reminded me of my mother's devotion.
It was good to consider that, like Andre Bessette, "I sit at the portal of our home, welcoming friends and tending to the needs of my family."
I cheered at seeing Gianna Beretta Molla's story here. St. Gianna is revered as an advocate for fetal life. I became attracted to her shortly before her canonization as a modern-day Catholic activist, committed physician and woman deeply in love with her husband.
This book makes it easy to occasionally choose a saint for a short period of prayer or to find weekly models over the course of a year. It might easily draw you, as it did me, into looking for more information about some of our faith-filled champions. While you are online you can also visit CatholicMom.com, which Lisa Hendey founded.
About the reviewer
Mary Ann Paulukonis has many favorites among the Communion of Saints. Daily she meets saints-in-the-making in her roles as wife, mother, grandmother, artist and consultant for leadership and ministry.
Disclaimer: Book reviews do not imply and are not to be used as official endorsement by the USCCB of the work or those associated with the work. Book reviews are solely intended as a resource regarding publications that might be of interest to For Your Marriage visitors.