A Catholic Mother's Companion to Pregnancy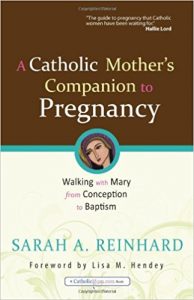 The only companions I recall from the days of my own pregnancies were my husband, a woman friend a couple years older and a book about the Lamaze method of childbirth. Sarah Reinhard is a companion I would have appreciated.
One of my mother's companions in spirit was St. Gerard Majella and the small St Gerard Bulletin that came regularly in the mail. Seeing St. Gerard commended in Sara Reinhard's first chapter tells me that my mother also might have appreciated this book.
But how, you might wonder, can a book serve as a companion? It is not the book so much as its wisdom and, especially, companions in faith whose affiliation the author encourages. The principal companions are Mary, mother of Jesus, and Christ himself.
Reinhard also reminds us of relevant biblical figures and saints who can accompany women on the way through pregnancy and childbirth, and she introduces contemporary women who share their own pregnancy-related stories.
Chapters follow a pattern. The book's first section follows the typical weeks from conception to full term plus a couple weeks for a late birth. Chapters begin with a description of what likely is happening in the mother's and baby's bodies.
Some chapters open with a bonus "feature" before the usual pattern ensues. Most of the features deal with a pregnancy-related challenge. It might have to do with when to share the news of pregnancy or learn the baby's gender, or how much baby clothes and equipment to acquire.
Or the feature might concern an unplanned pregnancy, miscarriage or complicated labor. Some features are written by women who have dealt with the challenge, giving the reader a viewpoint that Reinhard apparently cannot.
After the feature, if there is one, and comments on physical development, the author suggests how the expectant mother can walk with Mary. Reinhard offers a short reflection on a mystery of the rosary and through the course of Part One's 40 chapters, goes through each mystery twice. These are down-to-earth reflections that anyone familiar with pregnancy can relate to.
A piece on the Visitation, for example, paints a picture women can well imagine: "Serving isn't easy when you don't feel well. … (Mary) might have been throwing up every few hours . … She might have just longed for a nap. Elizabeth probably knew this and more than likely encouraged Mary to rest. But I don't think Mary made the arduous journey there and back only to let Elizabeth coddle her."
After the reflection there are a few paragraphs, called "One Small Step," that encourage the reader to try a simple faith practice.
Then a "Faith Focus" explains an element of Catholic belief that connects with the chapter theme. Each chapter ending is a conversation-with-God type of prayer.
Parts Two and Three are shorter and are set up a little differently than Part One. Part Two deals with labor and delivery, which Reinhard compares to a marathon. After noting that mental, physical and spiritual preparation is very valuable, she makes recommendations, including full chapters on spiritual practices for both labor and birth.
Her tips and strategies for the culminating events of pregnancy are practical. Not many authors are as honest as this one, who admits: "Newborns are a love-hate situation for me. I love nursing and feeling their small weight against me, but I hate the never-ending demands and the loss of brainpower that inevitably results from dealing with a small person who is more narcissistic than me. It's not that the newborn can help it, I know, but it's more a reminder of my many flaws as a person."
The third and final part of the book focuses on baptism. Here, walking with Mary is to baptism and beyond. This chapter provides a short overview of the sacrament, offers good tips on preparing for and celebrating baptism, and recommends "tools" for passing on the faith to one's child.
Sarah Reinhard was baptized a Catholic as an adult. It is obvious from her book that she loves her faith and has a healthy spirituality. She has a husband and three children but manages to make time to write articles and a blog, contribute to Catholic websites, produce podcasts and volunteer for her parish. This book is the first in a CatholicMom.com series.
About the reviewer
Mary Ann Paulukonis is a mother of two adult children and grandmother of three. She is known for her glass artistry, writing, speaking and ministry consulting
Disclaimer: Book reviews do not imply and are not to be used as official endorsement by the USCCB of the work or those associated with the work. Book reviews are solely intended as a resource regarding publications that might be of interest to For Your Marriage visitors.