Holy Sex!: A Catholic Guide to Toe-Curling, Mind-Blowing, Infallible Loving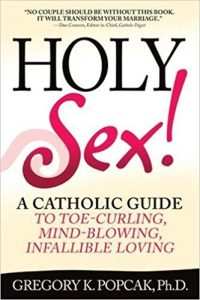 If this book does not contain everything you want to know about sex, it tries to come close. Underlying all the information and advice is the principle that proper use of sexuality is holy and makes a person holy.
You read that right: Sex contributes to sanctity! This book might even persuade you that the converse is true — to have good sex you must be striving equally as much for holiness.
Popcak is by his own definition a "talk radio psychotherapist" who writes about theology and sexuality in popular language. He makes Catholic teaching about sex and Pope John Paul II's theology of the body easily comprehensible.
The author's breezy tone and earthy sense of humor (a bit rough in a few places) encourage the reader to relax with the material. He maintains engagement by illustrating with anecdotes about couples he has counseled.
Using a framework of human sexual evolutionary stages, the first part of the book reviews Catholic teaching on sexuality and debunks inaccurate perceptions. Popcak calls the fifth stage "Holy Sex" or "Infallible Loving" and devotes the second part of the book to the "Five Great Powers of Holy Sex."
These five powers are pathways to an intimacy that Popcak expands upon in separate chapters: (1) the power to make the common holy; (2) sacramental and redemptive power; (3) power to be a physical sign of God's passion for us; (4) power to unite; and (5) power to create.
Any person who tries to read the book alone may soon try to draw his or her spouse into at least the quizzes and exercises, which are designed to provoke discussion. Popcak recommends that couples use the book together since "the sexual relationship is only as good as both partners think it is."
Readers who skip over some parts of the book to get to the tips and techniques or the last part's practical treatment of questions and problems still cannot avoid the message that eroticism is no substitute for a soulful love life.
About the reviewer 
Mary Ann Paulukonis is an artist, writer and consultant for marriage and family ministry.
Disclaimer: Book reviews do not imply and are not to be used as official endorsement by the USCCB of the work or those associated with the work. Book reviews are solely intended as a resource regarding publications that might be of interest to For Your Marriage visitors.