Joseph, The Man Who Raised Jesus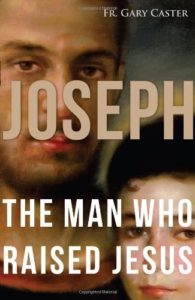 People often joke that their favorite quote from St. Joseph is "…," playing on the idea that so little is known about him from the Scriptures. Despite having no recorded words of St. Joseph in the Scriptures, Fr. Gary Caster's Joseph, The Man Who Raised Jesus brings a vibrancy to the life of St. Joseph seldom seen. Inspired by his mother's great love for and devotion to St. Joseph, Fr. Caster embarks to examine the Scriptures for keys to the character and personality of St. Joseph. In his introduction, Father writes that "[St. Joseph's] love of Our Lady, care for Jesus, obedience, faith, purity, simplicity, courage, and hope speak loudly from the home he built in Nazareth" (p. xiii). As he shows throughout the book, we can discover so much about the life and character of St. Joseph precisely through his lack of words. 
Each chapter of Joseph, The Man Who Raised Jesus focuses on one aspect of St. Joseph, beginning with his relationships with Mary and Jesus. These relationships remain woven throughout each chapter, providing us with additional insights about the man, Joseph. 
Fr. Caster begins by focusing on his role as the spouse of the Blessed Virgin Mary. Although the marriage of Mary and Joseph was unique, the author does not allow that to lessen the significance of the bond between the two. Speaking about their nuptial love, he says, "[St. Joseph's] relationship with Mary is, by grace, truly and most fittingly nuptial. The love and affection between them mirrors their love for God, for he is fully present in them" (p. 6). While their marriage may look different, it is the most perfect one in human history, because it is free from the "selfishness and urges to control that result from sin" (p. 6). The relationship of Mary and Joseph reveals God's intention for marriage: self-sacrificial love in imitation of the perfect love of God. 
Fr. Caster then discusses how St. Joseph serves as the father of Jesus and how he might have influenced Jesus in that role. The theme that runs through this chapter on Joseph as father comes from Luke's Gospel: "And Jesus advanced [in] wisdom and age and favor before God and man" (Luke 2:52). This chapter focuses on how we can recognize the fatherhood of Joseph throughout the life and ministry of Jesus, especially on "one of the most important lessons fathers must teach their sons [which] is proper conduct toward women" (p. 14). He looks at how Jesus goes beyond the cultural norms for interactions with women to reveal that His ministry and message were for both men and women. This attitude toward women would have been cultivated in His home at Nazareth, specifically by St. Joseph himself. 
Masculinity is an important theme that often traverses books on St. Joseph. Fr. Caster's treatment of the masculinity exemplified in the life of St. Joseph is worthy of note. He says, "St. Joseph was a model of masculinity, and his strength was rooted in thoughtful care and genuine respect. His unwillingness to expose Mary to shame reveals the depth of his character, so does his attentive care of Mary at the time of Christ's birth" (p. 18). The author makes clear that Joseph's masculinity and virtue lie in his humility and quiet strength.  
Building on these virtues, Fr. Caster reviews the other virtues and strengths found in St. Joseph – obedience, faith, hope, charity, courage, poverty, purity, prayer, patience – along with the different roles Joseph serves, such as laborer, shepherd, guardian, and patron of the Church. Although the Scriptural accounts of St. Joseph are few indeed, Fr. Caster reveals St. Joseph through Jesus and Mary, creating a foundational understanding of who St. Joseph really was based on the stories in Scripture that reveal his character and identity. 
Joseph, The Man Who Raised Jesus by Fr. Gary Caster serves as a great opportunity to encounter the person of St. Joseph. For a saint who is so central for the Church, the life and character of St. Joseph are shrouded in mystery. While this work about St. Joseph does not provide us with new insights into the events of his life, it serves as a beautiful way to encounter and come to know him as a person.  
Fr. Gary Caster does a beautiful job making this book both theological and accessible. His exegetical discourse on the Old and New Testaments as a means to knowing St. Joseph provides a fresh approach for academic audiences.  At no point do the author's explanations become heady or full of theological jargon, making this a wonderful read for anyone. As we celebrate the "Year of St. Joseph," everyone – young, old, lay, priest, religious, single, married – would benefit from a thoughtful reading of this book. Joseph, The Man Who Raised Jesus provides us with an opportunity to encounter and know St. Joseph – a worthwhile companion in this year and for our entire lives. 
About the Reviewer
Ryan Burke earned his Bachelors of Arts in Theology and Catechetics from the Franciscan University of Steubenville. He also holds a Master of Education in Secondary Education from Providence College. He enjoys baking with his wife, reading, and woodworking. Ryan currently lives with his wife Caty and their two cats in Fort Wayne, IN.