Let Me Sow Light: Living with a Depressed Spouse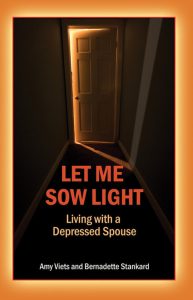 Amy Viets and Bernadette Stankard write from their personal experience of living with husbands who suffer from depression. They share other husbands' and wives' experiences of living with a depressed spouse.
A chapter titled "You're Not Alone" reviews avenues of support. A section on the lifeline of community relates one man's experience of unburdening himself to his pastor about how his wife's depression affected him and how he feared for their infant's safety. Subsequently, the pastor checked in on him regularly, and three parishioners began to offer assistance such as caring for the baby so the man could have time to himself.
How many of our churches respond with such compassion and practical assistance? That man never expected real help and didn't intentionally seek it. As a chapter on financial difficulties notes, "It's important to speak the truth about what's going on and why." Yet a parish or congregation must be a safe place to admit troubles and be seen to offer real help if it is to be a lifeline community.
Making a PACT with God is central to the book. The acronym PACT represents prayer, affirmation, community and truth. Prayer emphasizes God's presence and readiness to take our burdens. Affirmation includes strategies to counter negative thoughts and feelings. Community can provide physical and emotional support. Truth brings the illness of depression out into the light of day.
This book lists resources for financial assistance, advises about the effects of depression on children, sexuality and faith, and explains some of the challenges of treatment. It speaks frankly about living with the threat of suicide and coping when a spouse takes his or her own life. Its explanation of how marital balance and the family system are affected by depression and recovery is insightful.
Overall Let Me Sow Light sheds light on depression and can help a spouse see light during a dark time. Although the authors are not from the same faith tradition (Stankard is a Catholic, while is Viets a Lutheran), they offer many points of value to people of diverse religious traditions.
About the reviewer 
Mary Ann Paulukonis is an artist, writer and consultant for marriage and family ministry.
Disclaimer: Book reviews do not imply and are not to be used as official endorsement by the USCCB of the work or those associated with the work. Book reviews are solely intended as a resource regarding publications that might be of interest to For Your Marriage visitors.