PMAT: The Perfect Marriage Aptitude Test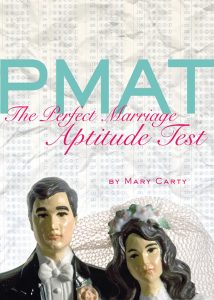 "Respect is the number one ingredient in a healthy relationship. If you respect your partner, you will set a positive foundation for all of your communication," Mary Carty writes in PMAT: The Perfect Marriage Aptitude Test.
In one sense, this book is really all about communication in marriage. In her approach, however, the author differs from many others who have probed this topic. She gets right down to the basics of married life, encouraging husbands and wives to evaluate how well they communicate when it comes to the nitty-gritty issues of daily life.
For example, the book invites readers to think how they might respond – what approach to communication is wise – if their spouse says:
"You promised to paint the kitchen last year; I can't stand looking at these dingy walls any longer. When will you take care of this?"
"You never start conversations. I feel like I am living alone."
"You make me so mad when you talk to me in that tone."
Carty, a writer and editor, believes that "communication problems account for many of the challenges couples face in marriage and may even contribute to or be the cause of divorce." Her premise, she explains, "is that people create the marriage they will have" through countless, everyday decisions they make "relating to family, household, job, money and health issues." Her hope is that couples will develop "partnership power."
The book includes a 200-question, multiple-choice test that spouses can use to evaluate whether they are an ultimate partner, a competent or an inconsistent partner, or a clueless partner. The questions will prompt spouses to reflect upon their way of approaching tensions that arise in marriage, their manner of communicating about a wide variety of issues and the attitudes that shape their responses to their spouse.
Briefly, the book describes the ultimate married partner as "honest and interested in maintaining a sense of clarity in all actions and thoughts, … flexible and open, … encouraging and helpful, … [and] proactive." At the other end of the spectrum, the clueless partner is "resistant to discussing issues, … tends to criticize his/her partner, … is unwilling to cooperate or compromise … [and] exhibits a desire not to change."
Of course, "partners may exhibit each of the four styles at different times in their marriage, depending on the situations," the author notes.
The test this book offers makes it a unique resource that can be consulted again and again. Couples will find it valuable, and so will marriage educators. But I want to point out that the book offers more than a test.
Carty offers readers a list of "six marriage communication tools" that should prove highly beneficial, along with an easy-to-consult list of 11 "communication reminders." Many readers are sure to profit from the book's list of 100 ways to show active love – everything from taking care of a husband or wife during an illness to walking together and enjoying nature, from giving compliments to smiling often at one's spouse.
Before a husband and wife begin to discuss an issue, Carty advises each to "take five seconds and remind yourself of the unconditional love you feel for your partner and of your commitment to act in a respectful manner." She counsels that "bored looks and folded arms may give signals that you are not open or interested in what your partner has to say." And she cautions: "Avoid blame. It's not constructive, and its negativity is damaging and not worth the consequences."
In their approach to any issue that challenges them, Carty believes spouses should "strive toward responding with respect, love, empathy, openness and a positive attitude."
About the reviewer 
David Gibson served for more than 37 years on the Catholic News Service editorial staff.
Disclaimer: Book reviews do not imply and are not to be used as official endorsement by the USCCB of the work or those associated with the work. Book reviews are solely intended as a resource regarding publications that might be of interest to For Your Marriage visitors.