Take this Ring as a Sign of My Love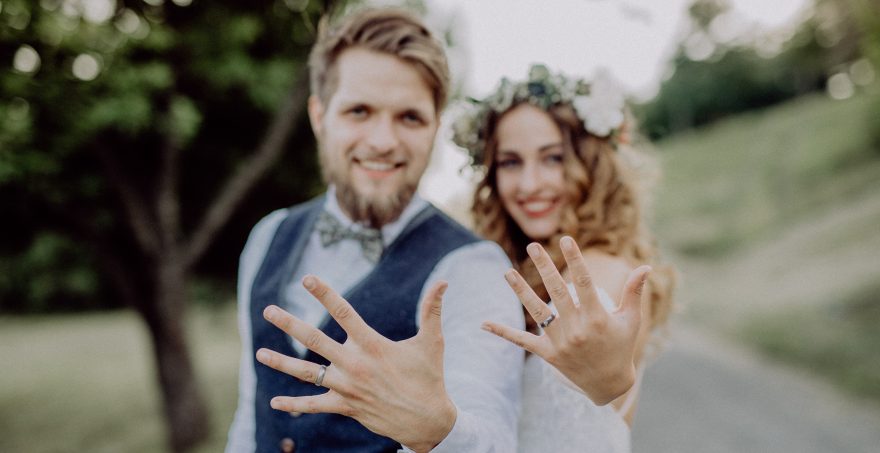 You may have heard the joke about the three rings in marriage—the engagement ring, the wedding ring, and the 'suffering.' Part of our family lore is that this joke made its way into a Best Man's toast at the wedding of one of our sons …really. It is meant to mock marriage, but it doesn't do justice to the full range of marriage's experiences with its joys, celebrations, memories, and laughs to name just a few.
On the other hand, suffering is not inconsistent with what Christ asks of us and promises us as his followers. In Luke 9:23, He notes that "…if anyone wishes to come after me, he must deny himself and take up his cross daily and follow me." He doesn't promise us a life of wedded bliss. Christ tells us we will need to deal with suffering and burdens and calls us to do so cheerfully, offering them up as a sacrifice or a prayer.
At times, we can also experience personal growth from our suffering, as a means to grow in love. We have experienced this when one of us or one of our children endures pain or suffering. It could be the loss of a job, the death of a relative or friend, a chronic illness, or even an extended absence. In our families, we think of grandparents who served lovingly as caregivers for a spouse with debilitating conditions, of siblings with major medical crosses they have endured for years, of significant surgeries or medical conditions for one of us personally and of the sacrifices assumed by their families at that time.
Sometimes the moments of growth from suffering are day to day challenges: comforting the high-schooler who got cut from the team; consoling the youngest of our FabFive (our five children) as the last sibling left for college. She missed her four closest friends, her siblings.
Recently, one of our children experienced and recovered from significant surgery. Watching her go through the pain and recovery is not enjoyable as a parent, but how she is enduring it and offering it up is a lesson for us. Also, the way her siblings and friends are supporting her, calling her, and checking up on her is a sign of their enduring love for her.
Suffering teaches us patience, humility, and submission to God's will. It teaches us how to accept love from the other despite our pride that we can 'do it all ourselves.'  Suffering is a reminder of why we are called together in the sacrament of matrimony for mutual support and of the vows we took at our wedding, that our love and commitment are not just for the good times.
So, yes marriage does include those three rings—among them suffering. But it also includes other rings that describe our love: unwavering, inspiring, endearing, maturing, and enduring. Those all have a nice 'ring' to them.
Keep the faith.