The Couple Checkup: Find Your Relationship Strengths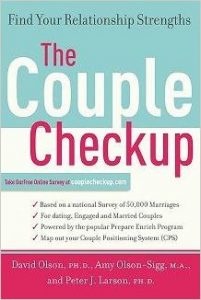 If you are looking for self-help directions from self-proclaimed experts, skip this book. These authors don't presume to offer generic advice because, as they say upfront, no one but you knows your relationship.
Instead the authors offer the experience of more than 50,000 "experts," couples who answered questions about their own relationships. The authors use that data to illustrate what contributes to happiness or dissatisfaction in marriage.
But don't assume the authors have no expertise. David Olson taught at the University of Minnesota for almost 30 years, designed PREPARE, one of the first premarital assessment instruments, and is considered a marriage and family expert by his peers across the country. Peter Larson is a licensed clinical psychologist, with a master's degree in theology, who coauthored PREPARE/ENRICH "Marriage Mentor" and "Building Strong Families" programs. Amy Olson-Sigg is a research associate and family counselor intern.
Results learned from 50,000 married couples the authors surveyed provided the organizing principles for "The Couple Checkup" book. First the researchers used a marital satisfaction scale to classify couples in their national study group as "happily married" or "unhappily married." A little more than 20,000 couples comprised each group.
Using a marital inventory, the researchers next found distinct differences between the happy and unhappy couples. The researchers denoted five discriminating categories that they termed the five keys to intimacy: communication, couple closeness, couple flexibility, personality compatibility and conflict resolution (in rank order). Furthermore they discovered items within those five categories that are most predictive of marital happiness.
Book chapters explain the findings in an easy-to-understand way and bring the data to life through anecdotes about particular couples.
A key to getting the most out of this book is "The Couple Checkup" profile. Everyone who purchases the book can obtain one free individual profile at CoupleCheckup. The access code also enables a discount for the buyer's partner to use the instrument, after which the couple will obtain a comprehensive "Couple Checkup" report.
Dating, engaged and married couples can use "The Couple Checkup." Your own "Couple Checkup" report will be like a snapshot of what your relationship is like at one point in time.
What you do with that snapshot makes all the difference. You might file it away in a drawer or talk about it without changing anything. Or you might use "The Couple Checkup" book to get a better understanding about your strengths in areas such as communication, sexuality and roles, and how finances, flexibility, spirituality and other factors affect marital satisfaction.
If you are a couple who do not just read the book but use it together, you can take advantage of tools provided in each chapter after the first two. That gives you 10 "check-in" opportunities, each a process for assessing where you are now, where you would like to be and how you will move forward. There are more than 10 very interesting exercises, plus chapter-end short lists of reminders for dealing with challenges.
Charts and diagrams in this book demystify research data and make accessible some intriguing information. Lead-in and sidebar quotes from a wide variety of people (Ralph Waldo Emerson, Margaret Mead, Jesuit Father Pierre Teilhard de Chardin, Alan Alda and others) stimulate thinking and offer inspiration.
This book's thoughtful presentation of issues and possibilities invites couples to set realistic mutual goals and take steps to achieve them. Your relationship checkup could be less expensive and more pleasant than an annual medical exam, and if it influences you to improve marital health, it could contribute to your physical health as well.
About the reviewer 
Besides nurturing relationships and writing, Mary Ann Paulukonis engages in speaking, ministry consulting and artistic pursuits.
Disclaimer: Book reviews do not imply and are not to be used as official endorsement by the USCCB of the work or those associated with the work. Book reviews are solely intended as a resource regarding publications that might be of interest to For Your Marriage visitors.