When Parents Divorce or Separate AND Now What Do I Do?
by Lynn Cassella-Kapusinski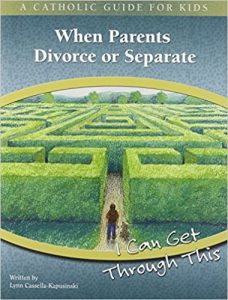 Lynn Cassella-Kapusinski has experience and education to inform her writing of these two books. Her own parents divorced after separating when she was eleven years old. Cassella-Kapusinski earned a Master's degree in Pastoral Counseling and became a Certified Counselor and a Catholic school counselor, facilitating family, individual, and group therapy with children, teens, young adults, and adults. Cassella-Kapusinski founded Faith Journeys Foundation as a ministry to help children dealing with loss.
According to the Faith Journeys website, Cassella-Kapusinski's motivation for her ministry springs not only from her observations of children and teen's needs, but also by knowing current statistics about such children. Data shows that children whose parents have separated or divorced are twice as likely as children in intact families to experience certain problems. Difficulties include conflict with siblings and peers, poor academic performance, getting into trouble with authorities, poor self-esteem, and depression. Adolescents are more likely to use alcohol or drugs and to engage in sexual activity. Young adults with divorced parents are more likely to have difficulty forming intimate relationships and becoming independent from their families. Cassella-Kapusinski wrote these books to help children and adolescents handle their negative emotions in a healthy way and to grow closer to God in the process.
When Parents Divorce or Separate: I Can Get Through This is designed as a workbook for children aged eight through twelve. Each chapter begins with a little story about a child whose parents are divorced or headed in that direction. The children represent a variety of races. Their thoughts and feelings sound realistic. Next are a variety of ways for a reader to express him- or herself via drawing, writing, multiple choice lists, diagrams, and other game-like exercises. Mixed in are pieces of information that can help the child learn and grow in understanding about what she or he is experiencing and practice healthy behavior. At the end of each chapter is a prayer and space to write down two or three "take aways" the child wants to remember.
Chapter headings give a good idea of the book's range:
Family: Do I Still Have One? Will I Ever Have One Again?
Crummy Feelings: What Do You Do with Them?
Separation and Divorce: Why Does It Happen?
Divorce Problems: What Can I Do to Help Solve Them?
Divorce Solutions: How Do I Take Action?
Caught Between: How Do I Get Out of the Middle
Anger: How Do I Handle It?
God: Does He Care?
Forgiveness: What If I Don't Want to Forgive?
When A Parent Stays Away: What Do I Do?
Dating, Stepparents, and Stepfamilies: What If I'm Not Ready for Another Change?
God's Plan for Marriage: Where Can I Find Hope?
When Parents Divorce or Separate is attractively illustrated and looks like it would engage a school-age child. The text encourages faith development, too. Casella-Kapusinski suggests that a parent or group leader encourage the child to use the book at regular intervals and return to it whenever the child experiences another change.
Now What do I Do? A Guide to Help Teenagers with Their Parents' Separation or Divorce is another workbook by the same author, published six years earlier. In this book Casella-Kapusinski aims to help older children, those in middle school and high school, express their feelings about their parents' marital breakup.
Topics in the two books are similar but note some shifts as indicated by chapter headings:
Feeling Bummed Out: How Do You Deal with It?
Blame: Whose Fault Is It Anyway?
Self Esteem: Am I Any Good?
Parents: If I Ignore the Problems, Will They Go Away?
Parents: What Am I Going to Do with Them?
Family: Will I Ever Have One Again?
War Zone: How Do I Get Out?
Anger: How Do I Get Past It?
God: Where Are You When I Need You?
Forgiveness: What If I Don't Want To?
Chapter format is similar to the book for younger children but not as fully developed as in the later book. A short child/teen-centered story leads to multiple writing, drawing, and game-like exercises interwoven with informative paragraphs. Activities include encouragement for conversations with God. Each chapter ends with a few "extra ways to help yourself" that are thought-provoking exercises or action steps.
Children and teens handle grief differently than adults. Issues tend to reopen as the growing child moves into new stages and experiences significant changes. Children, their separated (or about-to-be) parents, other family members, and pastoral ministers will surely appreciate these two books as good resources.
About the reviewer
Mary Ann Paulukonis is a writer, speaker, and consultant for leadership and ministry.
Disclaimer: Book reviews do not imply and are not to be used as official endorsement by the USCCB of the work or those associated with the work. Book reviews are solely intended as a resource regarding publications that might be of interest to For Your Marriage visitors.