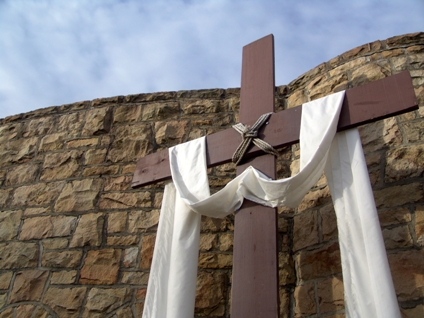 Finding Hope, Healing and Purpose After the Death of a Spouse
My first wife died in 1998 after a long illness. I was 41, widowed, and an only parent to two young boys. Now what? Many days I toiled with despair, hopelessness and questions. Many questions. St. Paul writes in Romans 8:28, "We know in everything God works for good with those who love Him, who are called according to His purpose." To be honest, it's hard to see the light when you're in the thicket of grief. His purpose was not my purpose. But fifteen years later, through God's grace, that has changed. The suffering we all went through has today revealed a beautiful ministry of hope, healing and purpose.
Below are portions from my memoir, The Greatest Gift-A Return to Hope.
~~~~
I wrote the vast majority of this book seven to eight years after Ann died. I think I needed some smooth waters to sail my boat on. I penned my words in, of all places, my dining room, on the same table Ann and I bought when we were first married. The same table she made things on, and at which the four of us enjoyed many great meals together.
As I wrote, things seemed to fall into my lap, like phone calls from old friends at just the right time with more descriptive views of what happened. I found writings that Ann made years ago and I think she'd hope they would find their way into print. It felt like all these years later, Ann was still orchestrating things.
We have all moved on now, the boys and I, and all who loved Ann. It's what she wanted us to do and with her help, we have. You can't go around grief, the circle brings you back. You march through it. Through the storms, sometimes crying with your head slung low off your shoulders, aching from your heels to your ears, and ironically, it's the pain that gets you through the pain. Living it, owning it, allowing it to take up residence in you for a while, pouring out your tears to the moon on some bench in the middle of the night, your agonizing screams cutting through the thin cold air.
It's the pain that gets you through the pain. You follow it. You feel it. It beats you down and builds you back up. It leaves you empty so you can be full again. Without this pain, you're lost and numb, following a path that leads you back to the same bench and the same screams, slightly muted maybe, a different day, all else untouched.
Moving on doesn't mean letting go. She'll always be with me. I have relocated her now to an accepting part of my heart that comforts the memories and messages. She more than anyone has made me into the person I am today. I have merged back into traffic, the wind at my back, a smile on my face, and joy back in my heart. I feel lucky to have lived a good part of my life with her, and every time I look at my two handsome sons she comes back to me and reminds me of what we once had. That can never be taken away. That's forever.
This journey took me to classrooms I would never have seen and taught me things I would never have known. I know now that the lessons are not in the hardships, they are choosing how to respond to them. I first learned how to grieve, and then I learned how to live. We are all faced with adversity in our lives, some more profound than others, but all these challenges we deal with are designed to teach us something, and when they don't, it's no one's fault but our own.
At the end of her life, Ann gave back all she had left to give and took nothing with her but the love she had for us in her heart. She told me on one of those final days that she felt "blessed to have loved and been loved my so many wonderful people."
We were blessed too.
~~~~
The ministry of hope, healing, and purpose is called Good Mourning Ministry, a Catholic bereavement apostolate, co-founded by my wife Sandy and myself. Sandy has been through her own grief journey, and we now feel called to help others who mourn. This ministry was founded in 2011, but the call from above came in 2010 during time before our Lord in the Blessed Sacrament.
I have come to learn there are no stages to grief. We all experience loss in our own unique way. Healing is an intentional process, where we gather together as a community of faith to become disciples of hope. It is through prayerful reflection, practical learning and personal fellowship that we mourn. And in mourning we begin to build our bridge to a new and different life.
Sandy and I have held over 40 "Grieving with Great Hope" workshops with Catholic parishes throughout Michigan and Ohio, supporting the needs of over 1000 grieving people. The "Grieving with Great Hope" DVD Series is now in many parishes throughout the country. "Every parish should have your program. We are so grateful to have found GWGH and welcome it to Central Texas."  – Deacon Tim and Liz Hayden, Holy Family Parish Copperas Cove, TX.
Sandy and I have not only lived our own grief journeys, but we are now educated as well. In addition to being a published author, I am a Certified Grief Counselor. Sandy has a Master's in Pastoral Ministry, emphasis in bereavement. Above all else, we too are disciples of HOPE. We are blessed.
For more information about The Greatest Gift or Good Mourning Ministry, please visit our website at http://www.goodmourningministry.net, or email us: goodmourningministry@hotmail.com.
Good Mourning Ministry is a Catholic bereavement apostolate. Our mission is to be a transformative ministry, to be bearers of hope and healing to those who mourn the loss of a loved one. The "Grieving with Great Hope" workshops are prayerful, practical and personal. About one-third of the time is spent in church, some of which is before the exposed Blessed Sacrament. The remaining time is used for learning and sharing in small groups. For more information, visit www.goodmourningministry.net.
Related Articles: