Domestic Church Retreat Day Seven: Learning at a Later Stage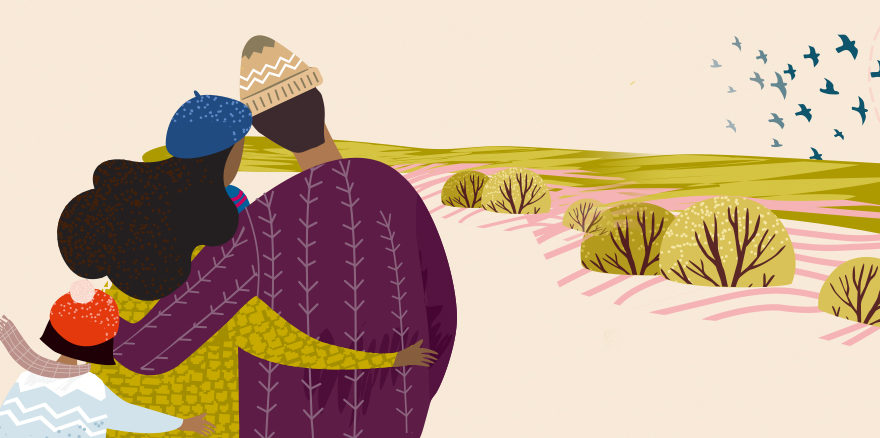 Also available as a printable PDF.
Day Seven: Learning at a Later Stage
A Story told by Grandparents
Early on as grandparents, we learned a lesson about teaching children to pray while babysitting our 4-year-old grandson. Come bedtime, the parents had not yet re-appeared, so we had the chance to do bedtime routine with little Antonio: story, snack, bath, pajamas. We had lots of experience with that, although we hadn't remembered how much energy it took!
When he finally climbed into bed, we were exhausted. We quickly said a short rote prayer with him, "Now I lay me down to sleep…" Ok, kisses and lights out. Right? No! Antonio started to wail, "I want the long prayer! I want the long prayer!" He cried and cried. We were mystified. What could the long prayer be? We sat on the bed and shared our own nighttime prayers with him, beginning with Our Father, Hail Mary, Glory Be, special intentions, blessings all around. Antonio calmed down and went to sleep like a lamb.
When the parents came home, we told them about the drama and asked "What's the 'long prayer'?" They laughed and said, "Oh, we usually do a longer bedtime prayer routine with him, including a whole litany of intentions, followed by the Our Father, Hail Mary, and Glory Be, just like you taught us. It's our special time together, and he looks forward to it. But when he is being rowdy, and we are at the end of our rope, we just say a short simple prayer with him. He must have thought you were punishing him by not saying the long prayer!"
By praying together as a family, we had instilled in our son a love of shared family prayer that he had passed on to his own family. We had witnessed how the habit of prayer, instituted when our children were young, was still resonating with them as adults.
Our parental responsibility to foster the faith in our home continues as grandparents – now in the homes of our children and children's children. Prayer is an excellent way to foster the faith, even when it has grown weak in our next of kin. Praying together is a time to reconnect, renew, and reconcile. At bedtime, meal time, car time, in sickness and in health, a family builds the bonds of love when they turn to God together.
Customs, traditions, and celebrations are all potential opportunities for prayer and faith building. Drawing on the homemade spiritual practices of yesteryear, a future of faith can be forged for next generations, one celebration at a time.
Just as God was with us through the long nights and exhausting days of our own parenting journey, He is with us in this new chapter of life in the bigger domestic church. We now say the "long prayer" for our children and grandchildren, sharing the comforting and encouraging love of our heavenly Father.
– Lauri and John
To Think About
Choose one or more of the following questions to reflect on with your spouse:
What traditions can you share with your grandchildren to foster the faith? Do you pray regularly for your children and grandchildren?
How does the faith and prayer shape your responsibility as a grandparent?
If you are not a grandparent, what are other forms of 'grandparenting' that you can provide to someone who needs it?
Prayer to the Holy Family
Jesus, Mary and Joseph,
in you we contemplate
the splendor of true love;
to you we turn with trust.
Holy Family of Nazareth,
grant that our families too may be places of
communion and prayer,
authentic schools of the Gospel
and small domestic churches.
Holy Family of Nazareth,
may families never again
experience violence, rejection and division;
may all who have been hurt or scandalized
find ready comfort and healing.
Holy Family of Nazareth,
make us once more mindful
of the sacredness and inviolability of the family,
and its beauty in God's plan.
Jesus, Mary and Joseph,
Graciously hear our prayer.
Amen.
(AL, 325)