"School" Retreat Day Five: Marriage Reflects God's Love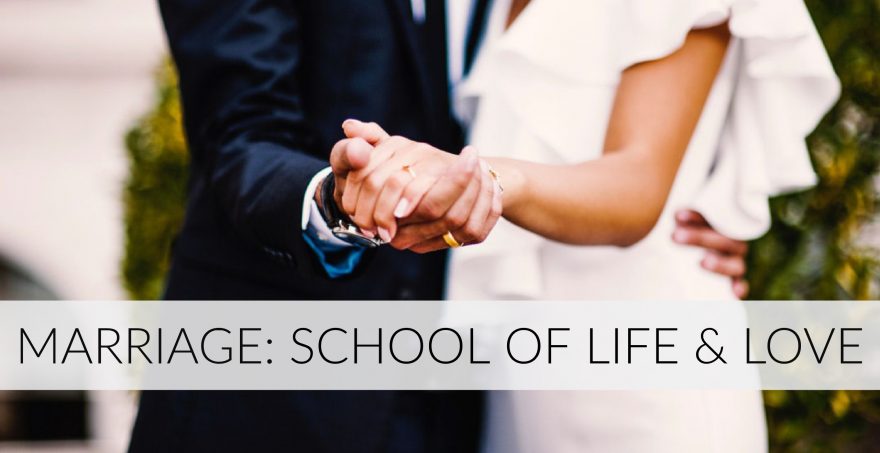 Breaking Open the Theme
"God who created man out of love also calls him to love the fundamental and innate vocation of every human being. For man is created in the image and likeness of God who is Himself love. Since God created him man and woman, their mutual love becomes an image of the absolute and unfailing love with which God loves man" (Catechism of the Catholic Church, no. 1604). With these words, the Church reminds us that married couples are called to be living signs of God's love to the world. Moreover, they represent the union of Christ and His Church: "The marriage of those who have been baptized is, in addition, invested with the dignity of a sacramental sign of grace, for it represents the union of Christ and His Church" (Humanae Vitae, no. 8; see Amoris Laetitia, no. 11).
These may seem like impossible expectations. How can married couples be living signs of God's love and Christ's love for the Church? It is actually easier than expected. God gives us examples of His love in the Old Testament using the analogy of a man's love for a woman (see Is. 54:4-8, 10). Israel is His bride with whom He makes a covenant: "On the part of God, the Covenant is a lasting 'commitment'; he remains faithful to his spousal love even if the bride often shows herself to be unfaithful" (Mulieris Dignitatem, no. 23). In a similar way, Christ nourishes, protects and loves His bride, the Church, composed of us men and women, with a tender love despite her shortcomings. Furthermore, "marriage and the family have been redeemed by Christ and restored in the image of the Holy Trinity, the mystery from which all true love flows" (Amoris Laetitia, no. 63). God does not expect us to love any differently than how He loves: with faithfulness and forgiveness.
Reflection
We all grow up with role models and people to whom we look up as examples of how we want to be. When we think of other married couples whom we admire, what is it about them that attracts us? What is it that we like about the way they carry themselves and interact with each other? What are some of their qualities that we would like to imitate? Do they somehow reflect the love of God? Married couples can be terrific role models, friends, and mentors. Why not reach out to couples who seem to have a 'special-something' and ask them their 'secret'?
To Think About
(Choose one or more of the following questions to reflect on by yourself and/or with your spouse)
(1) How do you and your spouse reflect the love of God to others around you and to one another?
(2) Is there a couple at church or in your community that you look up to?
(3) As a married couple, how can you better practice faithfulness and forgiveness?
Holy Couples – Saints Zachary and Elizabeth
Prayer of Married Couples
Almighty and eternal God,
You blessed the union of husband and wife
so that we might reflect
the union of Christ with His Church:
look with kindness on us.
Renew our marriage covenant.
Increase your love in us,
and strengthen our bond of peace
so that, [with our children],
we may always rejoice in the gift of your blessing.
We ask this through Christ our Lord. Amen.