"School" Retreat Day One: Marriage is a School of Life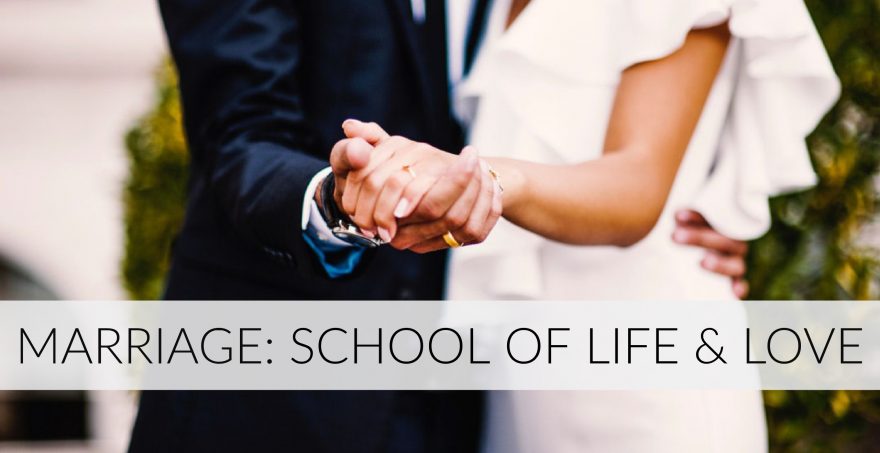 Breaking Open the Theme
For those called to the vocation of marriage, it is a school of life. Marriage teaches us about ourselves and others, how to make and maintain good relationships, how to develop character and virtue, and how to love those whom God gives us as family. The unique relationship between husband and wife is a privileged place for this journey of life where a couple learns how to become the man and woman they are called to be together in a union of life-giving love. Sanctified and fortified by the matrimonial covenant, husband and wife assist one another in "a partnership of the whole of life" (Catechism of the Catholic Church, no.1601). Marriage shows in a special way how men and women are made for each other.
In His divine design, God has established marriage as an "intimate community of life and love" (Catechism of the Catholic Church, no.1603; see Amoris Laetitia, no. 67). As a community of persons, it reflects the shared life and love of the Father, Son, and Holy Spirit. Moreover, the indissoluble union of husband and wife in Christian marriage "is a sign of how much Christ loved his Church in the covenant sealed on the cross" (Amoris Laetitia, no. 73).
Reflection
In our technological age, it can be difficult to put aside the cell phone and laptop to spend some quality time living side by side with those who are most precious to us. Marriages can become strained by the constant ringing and dinging of our devices, which increasingly demand our attention, and life can quickly pass us by without our noticing or being present to those around us.
Marriage demands a far greater commitment of life than an occasional glance in the direction of our loved one. In order for a marital relationship to grow and deepen, it needs to be watered and nurtured, cared for and tended to like any delicate form of life. It requires our undivided attention and devotion. All married couples to some extent experience a certain learning curve in marriage. It takes time and repetition to learn the lessons that make marriage a school of life.
To Think About
(Choose one or more of the following questions to reflect on by yourself and/or with your spouse)
What are a few lessons that you have learned at the school of marriage?
How could you improve your ability to learn from one another as a couple?
In what way can you and your spouse improve your "partnership of the whole of life"?
Holy Couples – Saints Louis and Zelie Martin
Prayer of Married Couples
Almighty and eternal God,
You blessed the union of husband and wife
so that we might reflect
the union of Christ with His Church:
look with kindness on us.
Renew our marriage covenant.
Increase your love in us,
and strengthen our bond of peace
so that, [with our children],
we may always rejoice in the gift of your blessing.
We ask this through Christ our Lord. Amen.