"School" Retreat Day Two: Marriage Lasts for Life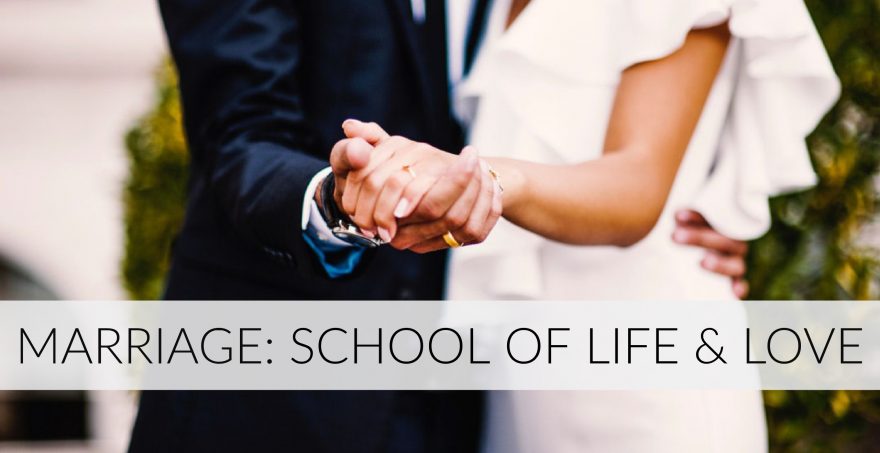 Breaking Open the Theme
"The matrimonial union of man and woman is indissoluble…" (Catechism of the Catholic Church, no. 1614). Marriage is a sacred covenant, a bond "established by God himself" (Catechism of the Catholic Church, no. 1640) that is permanent. From the beginning of time, God intended it to be this way, such that "when 'a man shall leave his father and mother and is joined to his wife, so that the two become one flesh', there remains in force the law which comes from God himself: 'What therefore God has joined together, let no man put asunder' (Mt. 19:6)" (Mulieris Dignitatem, no. 12).
Following from the permanency of marriage is its faithfulness and exclusivity: "Married love is also faithful and exclusive of all other, and this until death. […] Though this fidelity of husband and wife sometimes presents difficulties, no one has the right to assert that it is impossible; it is, on the contrary, always honorable and meritorious. The example of countless married couples proves not only that fidelity is in accord with the nature of marriage, but also that it is the source of profound and enduring happiness" (Humanae Vitae, no. 9). "The lasting union expressed by the marriage vows is more than a formality or a traditional formula; it is rooted in the natural inclinations of the human person" (Amoris Laetitia, no. 123). Moreover, the sacramental grace received in marriage between the baptized is available to the husband and wife to assist and strengthen them at every moment—times of joy and times of pain, sadness, and need.
Reflection
Every couple will experience at some point in their marriage times of pain and dissatisfaction. It is to be expected that imperfect people lead to imperfect couples. Perfection and impeccability are not what make for good marriages. A good marriage is one in which husband and wife continue to try and try again. They don't give up on themselves or on one another (or on God!). Marriage is a lasting commitment to be tenacious in this ongoing relationship to one another. The ability to forgive and start again is the most eloquent expression of faithful love.
In a "throw-away" culture of hook-ups, co-habitation, and pre-nuptial agreements, the commitment to anyone "until death do us part" can be perceived as irresponsible at best or terrifying at worst. Many people desire lasting commitment but at the same time fear it or fear rejection and failure. The Christian way of life challenges us to embrace the grace of God, which makes all things possible and satisfies the innermost desire of men and women for love that lasts.
To Think About
(Choose one or more of the following questions to reflect on by yourself and/or with your spouse)

Name one or two examples of tension or difficulty in your marriage. How have you worked through these times or plan to?
In what ways, if any, is your fidelity to one another challenged? How can these challenges be met?
How does forgiveness play a part in your marriage? Are there areas that still need to be forgiven?
Holy Couples – Saints Gregory and Nonna
Prayer of Married Couples
Almighty and eternal God,
You blessed the union of husband and wife
so that we might reflect
the union of Christ with His Church:
look with kindness on us.
Renew our marriage covenant.
Increase your love in us,
and strengthen our bond of peace
so that, [with our children],
we may always rejoice in the gift of your blessing.
We ask this through Christ our Lord. Amen.