After Miscarriage: A Catholic Woman's Companion to Healing and Hope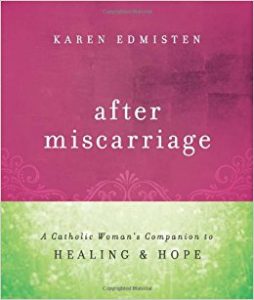 My first thought upon picking up Karen Edmisten's "After Miscarriage" was, "Since I haven't suffered miscarriage, can I do this book justice?"
One evening during my teens I knelt beside my mother while she lay on the sofa, bleeding and weeping, waiting for an ambulance to arrive. My mother never shared her feelings with me nor, as far as I can recall, did she talk with me about her loss after she returned from the hospital. Miscarriages were not talked about in those days, at least not between parent and child in our family.
When I was a young woman, I listened to a friend's confidences about multiple miscarriages, tests and treatments, and difficulties carrying a pregnancy to term. Last summer I began to worry over my son and daughter-in-law's pregnancy when they had two alarms. Yet these experiences are not the same as personally losing a child.
Every woman's response to such a loss is shaped by her own personality and experience, her beliefs, her network of family and friends, and the attitudes of medical professionals and others around her. Karen Edmisten shares, in their own words, the experiences of many women and at least one man.
Some of the narrations are but a brief paragraph or two, while others fill three or four pages. Some writers are adept at describing their experiences and feelings, while others can only convey a simple observation.
Edmisten artfully weaves their stories together with compassionate reflections, information and notes from her own journal. Quotations from literature, songs and Scripture gracefully connect personal issues with universal themes such as grief and hope.
Did you know that sometimes there is no apparent reason for a miscarriage but in other cases a medical reason may be found and may be treatable? Did you know you may ask about your baby's remains, can obtain a copy of the pathology report, and can request funeral home and parish services for infants lost through miscarriage, including an early one?
Do you know ways to commemorate the life of a child lost through miscarriage? Did you know that God takes care of every child who didn't live long enough to be baptized? Did you know that husbands and wives may respond differently and may have difficulty communicating with each other about their grief? Do you know how to find support, even if you are single?
In many of her little chapters the author features tidbits of information related to questions like these, offers ideas and suggests resources. She even lists all the "Did You Know?" topics in an index on the last page of the book.
Edmisten is careful to record all attributions in a "Notes" section at the end of the book. She also provides a diverse list of resources, including books, articles, ministries, blogs, memorial items and medical information sources. Her choices are sound, and she describes the strong points of each.
One thing this book does not offer is superficial solace. Nor does it have any pat answers. It is authentically human and spiritual. It is authentically Catholic while being accessible to women of all faiths.
This book touched me despite my not having lost a baby through miscarriage. I recommend it not only for those who have lost a child, but also for those who could support them as a relative, friend or pastoral minister.
About the reviewer
Mary Ann Paulukonis, a wife, mother and grandmother whose life also includes artistic pursuits, writing, speaking and ministry consulting.
Disclaimer: Book reviews do not imply and are not to be used as official endorsement by the USCCB of the work or those associated with the work. Book reviews are solely intended as a resource regarding publications that might be of interest to For Your Marriage visitors.