Grandparents More Likely to Raise Grandchildren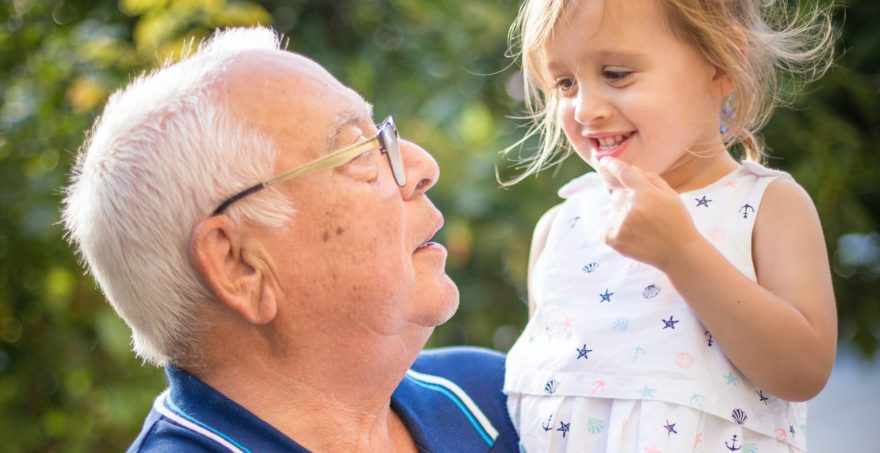 It is good news that grandparents tend to value time spent with grandchildren very highly since more and more children these days live with grandparents and are being raised by them.
One of every 10 children in the U.S. today lives with a grandparent, and 41 percent of those children are being raised primarily by that grandparent, the Pew Research Center reported Sept. 9. Based on its analysis of U.S. Census Bureau data, the center reported that a "small but growing minority of grandparents" have primary responsibility for their grandchildren.
The Pew analysis casts light on the daily lives of a growing number of older married couples in America. Two-thirds of the grandparents fulfilling caregiver roles for grandchildren are married, the Pew center said.
The economic recession that began in 2007 and the job losses that accompanied it apparently accelerated — but did not initiate — the rise in the percentage of children living with grandparents.
The Pew center explained that the percentage of children in the U.S. living with a grandparent "increased slowly and steadily over the past decade before rising sharply from 2007 to 2008, the first year of the Great Recession."
In a report titled "Since the Start of the Great Recession, More Children Raised by Grandparents," the Pew center noted that many grandparents also serve their adult children's families by helping out to some lesser degree with child care, or aiding them financially, or lending a hand with housework, home repairs, and errands.
Child care provided by grandparents is increasing in American society even though, according to the report, some 68 percent of American adults responding to a 2005 Pew survey held that child care "is not a grandparent's responsibility."
A key section of the report called attention to the results of an earlier Pew study indicating that grandparents tend to rate time spent with family members and grandchildren among the best parts of growing older. This may be fortunate, given the economic downturn's fallout for families. The June 2009 Pew report said:
"Of all the good things about getting old, the best by far, according to older adults, is being able to spend more time with family members. In response to an open-ended question, 28 percent of those ages 65 and older say that what they value most about being older is the chance to spend more time with family, and an additional 25 percent say that above all they value time with their grandchildren. A distant third on this list is having more financial security, which was cited by 14 percent of older adults as what they value most about getting older."
The new Pew report concludes that "providing child care for grandchildren is one thing, enjoying time with them is another." It says, "Whether or not they live with and raise their grandchildren, being a grandparent is central to the lives of most older Americans."
For grandparents, the report notes, "other potential benefits of growing older, such as financial security, less stress and the ability to travel seem to pale in comparison to grandchildren."
Here are just a few more points culled from the Pew report:
Forty-nine percent "of children being raised by grandparents" have a single parent in the household, while about 8 percent have both parents in the household and 43 percent have no parent in the household.
"The phenomenon of grandparents serving as primary caregivers is more common among blacks and Hispanics than among whites, but the sharpest rise since the recession began has been among whites."
"For the most part, grandparent caregivers have very limited financial resources. Nearly one in five (18 percent) is living below the poverty line, while 47 percent have household incomes that fall between one and three times the poverty line."
"Much of the increase in grandparent caregiving since the onset of the recession has occurred among grandparents who have incomes that are at least three times the poverty level."
"Overall, grandparent primary caregivers are relatively young; more than two-thirds (67 percent) are younger than age 60."
As a grandfather, I sat up and took notice when the report said that "among grandfathers ages 65-74, 57 percent helped out with the grandkids" to some extent. This, it said, "compares with 47 percent of grandmothers in the same age group."
I wondered if many grandfathers in this age group were a bit older than their wives, had retired before they did and thus, like me, were the ones available on a weekday to spend time with and care for a grandchild from time to time.
Whatever the case, it was good to hear that grandfathers are carrying their weight when it comes to their grandchildren and keeping the door open for the next generation.
About the author 
David Gibson served for 37 years on the editorial staff at Catholic News Service, where he was the founding and long-time editor of Origins, CNS Documentary Service. David received a bachelor's degree from St. John's University in Minnesota and an M.A. in religious education from The Catholic University of America. Married for 38 years, he and his wife have three adult daughters and six grandchildren.