Couple Cycles 3,360 Miles for Lasting Marriages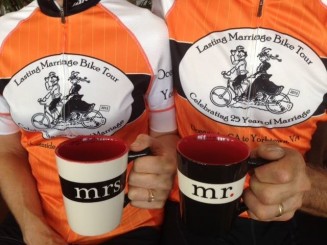 Time surely does fly by when you are very happily married. In the early days of our marriage my husband, Ric, and I imagined a life of friendship and love together, promising that we would never mention or even think of d______ (what so many people do to end their marriages). The word would not even exist in our vocabulary. And we have had so many wonderful years together. We wish all people were better prepared for marriage and chose more carefully the wife or husband they commit to "till death do us part" so every marriage would last and be the "happily ever after" it is meant to be.
We have been cyclists for all of our married life and we thought how fun it would be to ride our bikes across the United States, a dream that we had almost forgotten amongst the days and years of work and family life. With both kids grown and off on their own, we decided this was the way we would celebrate our 25th Wedding Anniversary – on a tandem ride across the United States. But we didn't want this ride to be just about us. We wanted to somehow help others in their own marriages. So from Oceanside, California to Yorktown, Virginia we searched for couples who had helpful advice on what makes for a happy, lasting marriage.
Our journey began on June 27, 2015 with a great send-off. About twenty friends and relatives joined us for breakfast in Oceanside including Karen, one of the friends that had introduced us to each other in college. From there we rode for 40 days, taking one day off per week to rest. Every day we would find someone to interview asking them, "What advice would you give to people who are preparing to get married or who are newly married?" We would then post the advice with a description of our ride for the day and some photos on our Facebook page "Lasting Marriage Bike Tour." On the page we also put some book recommendations, posted articles on marriage, listed marriage resources and 25 love songs that speak about true love.
Experience is a great teacher if you take the time to reflect upon it, so we interviewed people who had been married for a long time. The advice we received from these friendly people, most of whom were complete strangers to us, is valuable advice that would help anyone trying to build a successful marriage. Quite a few of our followers commented how much they appreciated the advice; some couples saying that they read our posts every night before they went to bed. We pray that it will help many others.
Some Advice from People Across the U.S.
Have God in your life and go to church together
Never stop listening and never stop talking
Be your spouse's best friend
Don't be selfish
Learn to compromise, to give and take
Persevere, always remember why you got married
Tell your spouse how much you love them
We made it to the east coast on August 12th, 2015. Overall, we traveled through nine states and rode 3,360 miles. We met so many good people and saw many beautiful sights. What a great adventure and a great way to spend time together celebrating our anniversary!