Finding Help When Your Marriage Is in Trouble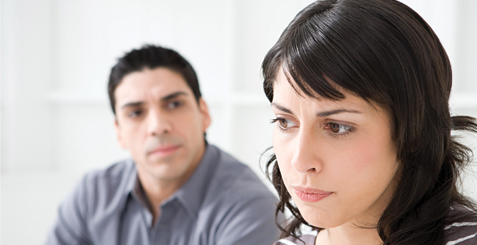 This document was developed as a print resource by the Committee on Laity, Marriage, Family Life, and Youth of the United States Conference of Catholic Bishops (USCCB) in 2011.
For Sue and Carlos, married for eight years, life is hectic as they try to balance his full-time job, her part-time job, and the needs of three children. Even when they manage a date night, conversation tends to revolve around the kids. Sue misses the connection she felt with Carlos as newlyweds. Carlos loves his family but wonders if there's something more than the endless routine of carpools and shopping. Both worry that the spark has gone out of their marriage.
Nearly a year after Tom admitted his affair with a co-worker, Sally cannot forgive him. She considered divorce, but Sally takes their wedding vows seriously and doesn't want to abandon nineteen years of marriage. Besides, Tom is a good father to their teenagers. Tom wants desperately to regain Sally's trust but doesn't know how to begin to repair the damage to their marriage.
On their wedding day, when a bride and groom promise to be true in good times and in bad, the hard times seem far away. The Church rejoices with the couple, even as it reminds them of what lies ahead. In the Nuptial Blessing the priest or deacon prays, "Lord, may they both praise you when they are happy and turn to you in their sorrows."
The Church understands that problems are part of every marriage. The reality of human sinfulness can impair the ability to achieve a happy and holy marriage. Modern stresses on marriage can take their toll.
Nevertheless, God's plan for marriage persists. He offers forgiveness and healing so that couples might learn to grow in self-giving love and thus become an image of the relationship between Christ and his Church.
How can this happen, however, when couples face the difficulties of married life? In their pastoral letter on marriage, Love and Life in the Divine Plan, the U.S. bishops offer an answer: "We bishops urge couples in crisis to turn to the Lord for help. We also encourage them to make use of the many resources, including programs and ministries offered by the Church, that can help to save marriages, even those in serious difficulty" (24).
This brochure identifies a variety of resources available to couples experiencing marital problems. Some couples, such as Sue and Carlos in the above example, can benefit from marriage education. Others, like Sally and Tom, often need more intensive help, such as counseling. All Catholic spouses can draw strength and healing from the Church's spiritual resources.
The Parish as a Source of Help
Catholics experiencing problems in their marriage often turn to their parish for assistance. For many, a first step is to discuss their situation with their pastor, who can often offer support and guidance. Although most are not trained counselors, an experienced pastor knows what to listen for and what kind of help to offer. Couples like Sue and Carlos may simply need reassurance that their marriage is going through an unsettling but normal phase.
In some cases, a pastor may identify and challenge an addictive behavior. He may also determine that professional help is needed and recommend a qualified counselor.
The pastor represents a Church that is committed to saving marriages, if at all possible. He promises to offer spiritual and emotional support as the couple works through their difficulties. He asks the couple to make a similar commitment by trying in good faith to save the marriage. (An important note: In Love and Life in the Divine Plan, the U.S. Catholic bishops state that "no one in a marriage is obliged to maintain common living with an abusing spouse" [24]. See also When I Call for Help: A Pastoral Response to Domestic Violence Against Women.)
In some parishes, deacons and lay ministers are able to provide pastoral care to married couples. Other parishes have pastoral counselors—trained mental health professionals who integrate sound therapy and spirituality. If no help is available, it may be possible to find assistance at a neighboring parish. This is also an option for couples who are reluctant to discuss their marital problems with their own pastor.
Helpful Resources for All Couples
Skills-building programs. Research has shown that marriages are more likely to succeed when couples acquire certain skills such as communication, conflict resolution, financial planning, and time management. Some parishes and community adult education programs offer skills-building sessions. The diocesan Family Life Office may be familiar with programs offered in the area.
In-home resources. Many couples appreciate the flexibility of in-home resources such as books, DVDs, and web-based marriage enrichment programs. These are readily available online and in bookstores. The For Your Marriage website includes lists of recommended books and programs.
A Marriage Mentor couple can be helpful for any marriage, especially one in trouble. Some parishes have programs to match couples; otherwise, a pastor might suggest someone, or a couple might look for a more experienced couple whose interactions they admire.
Group-based encouragement and enrichment. Various enrichment programs are offered in group settings. Some, such as Marriage Encounter and the Marriage Encounter Weekend Program, bring couples together for a day or a weekend to focus on improving their marriage. Others, such as Christian Family Movement and Teams of Our Lady, offer a chance to meet regularly with other married couples for mutual support and spiritual growth.
For Your Marriage has more information about these and similar resources.
Resources for Couples with Serious Issues
Support groups. Addiction to drugs and alcohol, gambling, pornography, and similar behaviors, if left untreated, worsen over time and can destroy a marriage. Twelve Step programs such as A.A. and N.A. can be effective, alone or in combination with other therapy. The spouse of someone with an addiction can benefit from Al-Anon or Narconon. Many parishes have a list of such programs in their area.
See the article on Addictions for more information.
Retrouvaille and The Third Option. Retrouvaille is a weekend program with follow-up, designed for couples with serious problems, including those who are separated or divorced. Weekends are offered around the country. The Third Option combines skills-building workshops, sharing with mentor couples, and a support group. It can be used for marriage enrichment or crisis intervention. Spouses may come alone.
Counseling
Sometimes a problem becomes more than a couple can handle alone. Indications that a couple might need counseling include ongoing conflict that does not get resolved; poor communication patterns; disruptive life transitions; substance abuse; disagreement over a child's needs; and mental health issues such as depression and anxiety. A positive outcome is more likely when help is sought sooner rather than later.
A major challenge is finding the right counselor. The therapist should be committed to saving the marriage, if at all possible, and should respect religious values as a resource for strengthening the marriage. The therapist should have specific training in marriage counseling, with a practice that includes a significant amount of couple work.
The best referrals come from people whose wisdom and integrity can be trusted. This might include a friend, family member, physician, or mental health professional. It could be a pastor or parish staff member. Another referral source is the diocesan Catholic Charities Office or Family Life Office.
See the article on counseling for more information.
Spiritual Resources
Jesus promises to be with those who are dealing with difficulties: "Come to me, all you who labor and are burdened, and I will give you rest" (Mt 11:28).
Couples can experience Jesus' presence through the Catholic Church's rich treasury of spiritual resources.
In the Eucharist, Catholic married couples encounter the one who is the source of their marriage. Jesus' self-giving love sustains their own union. Sometimes, however, couples slip in their Sunday Mass attendance, or they do not attend Mass together. A first step might be to make a date for Mass and start to reclaim the spiritual foundation for the marriage.
Through the Sacrament of Reconciliation, Jesus offers mercy and healing and the opportunity to make a fresh start after inevitable stumbles.
Personal prayer, Bible reading, and devotions such as the Rosary or eucharistic adoration can help couples discern God's will for their marriage.
Some parishes and dioceses offer a day of reflection or weekend retreat for married couples.
Conclusion
The Catholic Church wants couples to have a holy and happy marriage. Addressing problems as they arise helps spouses develop the skills and behaviors that lead to a happy marriage; it also leads them to a holy marriage, as they grow in virtues such as patience, perseverance, and forgiveness. Couples who have worked through serious difficulties often emerge stronger and more committed. Hand in hand, they lead each other to heaven as they witness to God's own faithfulness and abundant love.
About the document
The document Finding Help When Your Marriage Is in Trouble was developed as a resource by the Committee on Laity, Marriage, Family Life, and Youth of the United States Conference of Catholic Bishops (USCCB). It was reviewed by the committee chairman, Bishop Kevin C. Rhoades, and has been authorized for publication by the undersigned.
Msgr. David J. Malloy, STD
General Secretary, USCCB
Scripture texts used in this work are taken from the New American Bible, copyright © 1991, 1986, and 1970 by the Confraternity of Christian Doctrine, Washington, DC 20017 and are used by permission of the copyright owner. All rights reserved.
First printing, May 2011
ISBN 978-1-60137-199-7
Copyright © 2011, United States Conference of Catholic Bishops, Washington, DC. All rights reserved. No part of this work may be reproduced or transmitted in any form or by any means, electronic or mechanical, including photocopying, recording, or by any information storage and retrieval system, without permission in writing from the copyright holder.
This resource is also available in a printed brochure format (Publication No. 7-199). To order copies contact USCCB Publishing or call 800-235-8722.