Support for Troubled Marriages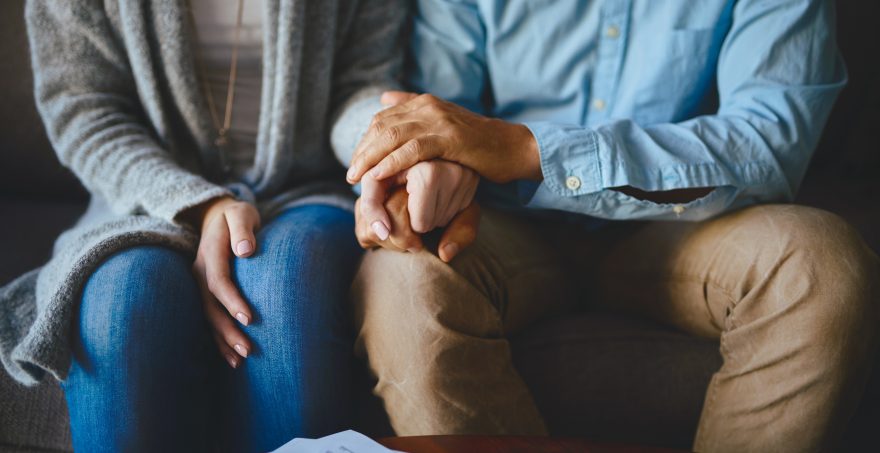 Every marriage hits its rough spots. Pope Francis noted in his apostolic exhortation Amoris Laetitia that "the life of every family is marked by all kinds of crises." He goes on to say, "Couples should be helped to realize that surmounting a crisis need not weaken their relationship…Each crisis becomes an apprenticeship in growing closer together or learning a little more about what it means to be married. There is no need for couples to resign themselves to an inevitable downward spiral or a tolerable mediocrity" (no. 232).
If you are struggling in your marriage, take heart! The Church cares about you and wants you and your spouse to find healing and a renewed sense of love. Below are organizations dedicated to helping couples and families in crisis. Don't be afraid to reach out for help; your marriage matters and the Church is here for you.
Also, see our Marriage Rx and Overcoming Obstacles section for advice on specific challenges.
If you or a loved one is struggling with pornography use or addiction, please see our page focused on help for men and women struggling with pornography.
The Alexander House: Marriage Disciples
This couple-to-couple program has helped thousands of couples rediscover the joy and happiness in their marriage by walking with them and sharing practical ways to live out God's plan for their marriage.
Greg Alexander
210-858-6195
greg@thealexanderhouse.org
BAN – Beyond Affairs Network
An International Support Group with local chapters for people recovering from the devastating experience of a spouse's affair.
Anne and Brian Bercht
360-306-3367
info@beyondaffairs.com
COMPASSION WORKSHOPS: Anger & Violence Regulation
Educational programs for individuals and families that deal with the detection, treatment, and prevention of abuse (home study/self-training kit available).
Steven Stosny, PhD
301-921-2010
stosny@compassionpower.com
Courage Apostolate
A Catholic ministry dedicated to helping men and women who experience same-sex attraction reach the freedom of interior chastity through the loving support of others and the graces of the sacraments. Support is offered to both single and married persons, in line with Catholic teaching. Visit the Courage website to learn more and to find a local chapter: https://couragerc.org/
Divorce Busting Programs
Trained coaches support couples who want to save their marriage.
Michele Weiner-Davis
800-664-2435 or 815-337-8000
virginia@divorcebusting.com
The Emmaus Ministry for Grieving Parents
The death of a child is the most traumatic and devastating experience any parent can face. At a minimum, parents feel totally alone because their spouse is usually at a very different place in their grief journey. Spouses often cannot understand or accept coping mechanisms used by each other, and they may blame each other, secretly or openly, for the death. However, many grieving parents have found that the rich teachings of the Catholic Church that life has changed for those who have died, not ended, does bring peace, comfort, and hope. The Emmaus Ministry for Grieving Parents is a Catholic ministry dedicated to serving the spiritual needs of parents whose children of any age have died by any cause—no matter how long ago. It offers One-Hour, One-Day, and Weekend Spiritual Retreats for grieving parents given by grieving parents and spiritual leaders. See www.emfgp.org for more information.
Hope Springs Florida
A nonprofit organization that helps families with a child with special needs re-energize and restore healthy relationships. HSF offers more than a vacation respite home for those with autism; it offers hope to working-class families in a seaside environment by handling all the details necessary for a relaxing vacation. This includes airport and ground transportation, dietary and sensory need accommodation, and preferred access to recreational activities near historic Saint Augustine, FL. HSF is founded on the principle of hope, as expressed by Pope Francis: "When there is no human hope, there is that hope that carries us forward, humble, simple—but it gives a joy, at times a great joy, at times only of peace, but the security that hope does not disappoint: hope doesn't disappoint."
For more information, contact Joe Rodgers at 614-886-5510 or rodgers_2244@hotmail.com.
National Registry of Marriage Friendly Therapists
This group lists therapists with many years of training and experience in marriage and couples therapy who are dedicated to helping marriages succeed if at all possible.
Pastoral Tele-Counseling Services
The Pastoral Solutions Institute provides over 8000 hours/year of ongoing, Catholic-integrated counseling services via the telephone to couples, families, and individuals. Combining insights from our Catholic faith with empirically validated psychological techniques, our counselors help clients find practical and grace-filled solutions to difficult marriage, family, and personal problems. Our counselors are all licensed at the highest level, have additional training in pastoral theology, and are faithful to the Magisterium.
740-266-6461
Person & Identity
Assists the Catholic Church in promoting the Catholic vision of the human person and responding to the challenges of Gender ideology. Gender ideology has permeated the culture with stunning speed, influencing medicine, business, media, entertainment, government, and education. Because it is sowing confusion and undermining the Church's mission of evangelization, the rise of gender ideology has created an urgent need for clarity, education, and compassionate guidance for Catholic families and young people. Their website includes resources for parents, schools, and parishes.
Retrouvaille
A weekend experience combined with a series of 6-12 post-weekend sessions over three months. The main emphasis of the program is on communication in marriage between husband and wife. There are neither group dynamics nor group discussions on the weekend.
800-470-2230
The Third Option
An ongoing group program for marriages. It combines 14 unique skill-building workshops, sharing by mentor couples who have overcome marital problems, and a support group component. Because it uses a "self-change" model, one spouse may come alone.
Andrea Buckley
855-624-9476
andrea@thethirdoption.com
Disclaimer: Please note that the content on this page is provided solely for your information and should not be interpreted as an official endorsement of the organizations, programs, and websites listed. To the best of our knowledge, the information listed here did not conflict with Catholic teaching and was accurate at the time of posting.